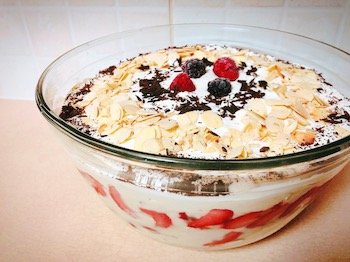 Berry trifle is a more common dessert in the UK than it is in North America, typically eaten at Christmas or in the summer. I would like to change that and bring greater awareness to it by making a keto-friendly berry trifle because it is AWESOME! It had all the right things in all the right places and is an incredibly beautiful dessert to boot.
If you want to make this easier, you can use a boxed instant pudding mix, but I would recommend finding one that doesn't contain corn starch or aspartame like the Jello brand does or any of the usual ones really. Simply Delish makes one that's sweetened with erithrytol, making it a healthier choice, but I prefer to make my own pudding from scratch since it's really not that hard and it gives me more control over my ingredients.
Keto Berry Trifle Recipe
Instant Pudding Mix Ingredients:
Trifle Ingredients:
Directions:
Slice and cube the cake once it's fully cooled. Leave the cake cubes exposed to air and let them dry out for 8-12 hours. The drier they are, the more they'll keep their form in the trifle. Alternatively, you can toast them in a 350F oven for 5 minutes, or until they're very slightly browned on top.

Whisk together instant pudding mix ingredients then whisk together with with almond milk and brandy (or brandy extract). Put in the fridge and allow to set. Meanwhile, put all the berries together in a bowl. Sprinkle the gelatin powder distributing throughout the berries then toss thoroughly, leaving a few of the strawberry slices separate (for lining the trifle bowl).

Whip 1 cup heavy cream with 1 tsp. of vanilla until stiff peaks form. Fold whipped cream to into the pudding mix with a spatula until fully incorporated.

Add 1/2 the cake cubes to the bottom of a trifle bowl or large serving dish. Top with half the pudding-cream mixture, smoothing it out with a spatula. Then add an even layer of the 1/2 the berries, sticking some of the strawberry slices to the sides of the trifle bowl. Then top with 1/2 the whipped cream, smoothing it out with a spatula. Repeat the cake cube, pudding cream and berry layers. Cover and refrigerate 6-8 hours over overnight the night before you plan to serve it.

Just before serving, whip up the last cup of heavy cream with the last teaspoon of vanilla along with 10 drops of stevia. Top trifle with whipped cream. Garnish with fresh berries, toasted almond slices (fully cooled), and chocolate shavings (if desired).
(*If it's not convenient to whip the final whipped cream layer the day you serve it, you can totally whip both layers at the same time the day before. The top layer will sink a little, but it's not a huge deal.)