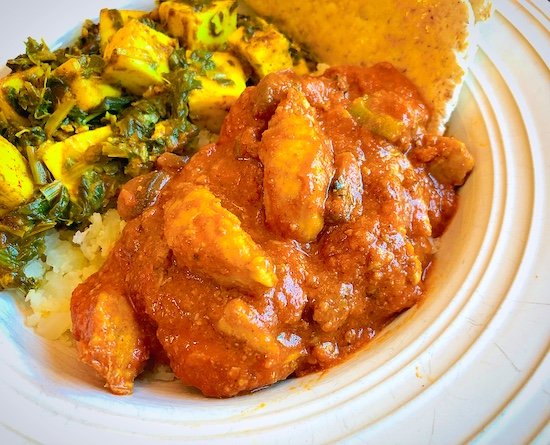 Butter chicken is probably the most famous Indian dish to the western world. Inherently keto, it is chock full of delicious fats, including ghee, heavy cream and yogurt. I've also included swaps for a dairy-free version for those who are sensitive to it, but it's not traditional and will have a similar but different flavour.
Chicken Marinade Ingredients:
Butter Chicken Sauce Ingredients:
2 tablespoons ghee (*May swap with vegan butter for dairy-free.)
¾ cup yellow onion, thinly sliced
1 teaspoon fresh ginger, minced
2 cloves garlic, minced
1 ½ teaspoon ground coriander
1 ½ teaspoon ground cumin
½ cup heavy cream (*May swap with coconut cream for dairy-free.)
½ teaspoon garam masala
1 tablespoon fresh fenugreek leaves, chopped (*May sub with mustard greens if unavailable.)
Directions:
First, marinate the chicken. In a medium bowl, combine the tandoori masala, ginger, garlic, and yogurt. Whisk until smooth, adjust seasonings to preference. Add the chicken and allow to marinate for at least 20 minutes and ideally for 12-24 hours, covered in the refrigerator.

Now prepare the butter chicken sauce. Heat the ghee in a heavy bottom pot over medium heat. Add the onions and sauté until they turn translucent, about 3-4 minutes, keeping them from browning. Add ginger and garlic paste and let cook for 30 seconds, stirring to keep it from burning. Add the can of crushed tomatoes along with the chili powder, coriander, and cumin, and continue to cook for 5 minutes, stirring frequently to keep it from boiling too hard.

Remove from heat, add the mixture to a blender and blend until smooth, adding a couple of tablespoons water if needed to help it blend. You may want to blend the mixture batches depending on the size or power level of your blender. Hold the lid of the blender down with a kitchen towel when blending to avoid spillage.
(*Make ahead: At this point you can cool and refrigerate the sauce for 24-48 hours (or freeze it for up to 3 months), it will help blend the flavors even more, just remember to bring the sauce back to room temperature (use the microwave) before proceeding with the recipe OR you can continue on with the recipe immediately.)
Assembly:
Heat avocado oil in a large skillet over medium heat. Add the marinated chicken, discarding any excess marinade, and cook for about 5-6 minutes, stirring as needed to brown all sides. Add the butter chicken sauce to the pot and heat everything through. Once it starts to bubble, add the cream and garam masala. When the sauce regains a simmer, add the fenugreek leaves. Serve over basmati rice or with keto naan.
Did you make this keto butter chicken recipe? If so, please let me know how it turned out in the comments. Or if you share pics of your creations on Instagram, please tag me so I can see them. Enjoy! :)