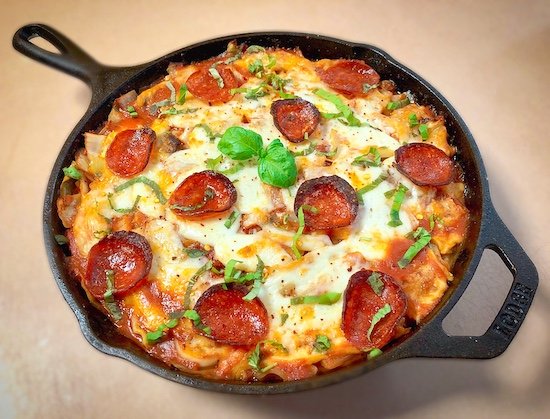 I've tried many times, and failed, to make what I consider to be an acceptable low-carb substitute for pizza over the years. I've tried fathead dough, chicken crust, cauliflower crust, zucchini crust, etc. The problem is that I have such strong expectations of what I want from the texture of the pizza, that simply can't replace the wheat-based version I've come to love. I am, however, okay with things that are "pizza-like", like zucchini pizza bites, for example, so I've decided to lean into that. I came up with this cabbage pizza skillet concept. I used cabbage because it's fairly neutral tasting, and breaks down into a pleasing enough texture to carry the rest of the ingredients after being sautéed in the butter. The presentation in a skillet really helps too, as it makes it look like a Chicago-style deep-dish pizza.
Keto Canadian Cabbage Pizza Skillet Recipe
Ingredients:
½ medium head of green cabbage, chopped
2 tablespoons unsalted butter (*Use vegan butter or avocado oil for vegan.)
Sea salt , to taste
One 14 oz can diced tomatoes, drained
1 cup keto marinara sauce
1 cup mozzarella cheese, grated (*I used sliced buffalo mozzarella in mine. Use vegan mozzarella to make it vegan.)
Canadian Pizza Add-In Ingredients:
15-20 pepperoni slices (reserving a few for the top)
½ cup white mushrooms, sliced
¼ cup cooked bacon, chopped (*I went for a Canadian-style pizza theme, but feel free to dress it up however you prefer. Use your choice of vegan ingredients for your add-ins if preferred.)
Directions:
Preheat oven to 400 degrees. Add butter and as much cabbage as you can in a 10.25" cast iron skillet preheated to medium. Turn and stir cabbage until it begins to cook down and continue to add remaining cabbage in.

Once you have cooked all the cabbage until it is translucent, stir in the tomatoes, marinara and add-ins. Top with the mozzarella and a few slices of pepperoni, and bake until chess is melted and slightly browned. (approx. 20-25 min.)

Remove from oven and allow to cool and set for about 8-10 minutes. Top with chopped fresh basil or parsley, chili flakes and parmesan cheese (or vegan parmesan) if desire and serve.
Did you make this keto Canadian cabbage pizza skillet recipe? If so, please let me know how it turned out in the comments. Or if you share pics of your creations on Instagram, please tag me so I can see them. Enjoy!