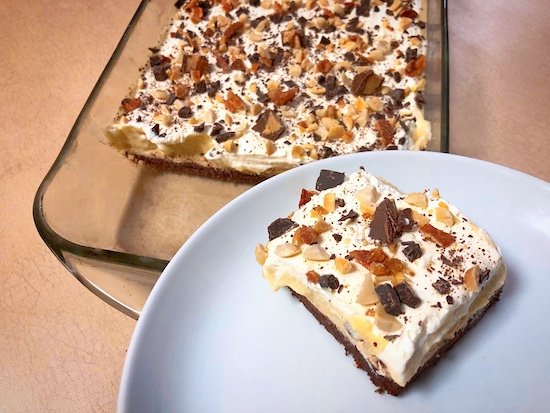 This low-carb layered lush dessert gives a nod to Elvis's tastes: the chocolate peanut butter banana bacon lush! It starts with a chocolate cookie base, which is topped with a peanut butter cream cheese layer, a banana pudding layer then topped with whipped cream and garnishes with bacon bits, chocolate chunks, roast peanuts and chopped peanut butter cups. A decadent, keto-friendly dessert worth of the King!
Keto Chocolate Peanut Butter Bacon Lush Recipe
Cookie Ingredients:
Other Layer Ingredients:
Directions:
Preheat the oven to 350F. In a large mixing bowl, sift together almond flour, coconut flour, chocolate whey isolate, cocoa powder, sweeteners, salt, baking soda, espresso powder, and glucomannan (or xanthan gum). Mix well.

Form a well in the centre and add the egg and vanilla. Beat the egg in the well then add the softened butter (or coconut oil). Mix until with a spatula until well combined. Spray the bottom of a 2-quart casserole dish then press the dough to line the bottom of the dish.

Bake for 15-20 minutes or until the cookie base is lightly browned on top. Remove from oven and allow to cool completely before adding other layers. Once cooled to room temperature, put it in the fridge if you're not ready to add layers.

While the cookie base is cooking, start to work on the other layers. In a medium mixing bowl, using a hand mixer, beat together cream cheese, peanut butter, stevia vanilla drops and 3 tablespoons powdered erithrytol. Fold in ¼ cup whipped cream until fully incorporated. Spread evenly over cooled crust.

Stir together pudding mix (with vanilla if using my homemade mix recipe), banana extract, and almond milk. Fold in ½ cup whipped cream until fully incorporated. Spread evenly over cream cheese layer in pan.

Top with remaining whipped cream. Refrigerate 4 hours or overnight. Just before serving, decorate the top with the bacon crumbles, chocolate chunks, peanuts and peanut butter cups. Cut and serve when ready or store in the fridge until that time.
Have you ever tried making a lush dessert before? What did you think of this keto chocolate peanut butter banana bacon lush? Please share your thoughts in the comments. Or if you share pics on Instagram, tag me so I can see your creation. Enjoy!