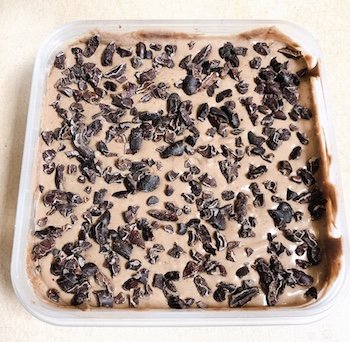 I love the convenience of dips. They're great for parties. They're convenient for BBQs and camping. Most dips at such events are savoury, so it's nice to have a couple of sweet dips in your keto arsenal for them and for general snacking. This chocolate peanut butter sweet dip is a favourite among my friends, both keto and normies.
Chocolate Peanut Butter Sweet Dip Recipe
Ingredients:
Directions:
Mix together all ingredients except the chocolate using a mixer on low. Sprinkle the chocolate pieces or shavings on top of the dip. Refrigerate 1 hour or more to set. Serve with keto crackers (try my recipes for golden flax crackers or pumpkin seed flax crackers) or celery sticks.
And that's it! What an easy way to add a desserty dish to an event with almost zero effort. What are some of your favourite keto sweet dips? Please share in the comments or if you end up making this keto chocolate peanut butter sweet dip, let me know how it goes. As always, feel free to also tag me on Instagram if you post pics of your creation too. :)