Last year, I went on my first solo backpacking trip on the Howe Sound Crest Trail. I wanted to do another, longer solo trek this year, so I decided to take on the West Coast Trail on Vancouver Island, a trail I had fantasized about hiking for 20 years. I first heard about it doing an online search as part of a course for school, when I lived in my home town of Ottawa, back when the Internet was young and Google didn't even exist. I read about it and saw photos of all its splendor. I made a decision then and there: "One day, I will hike this trail." I didn't know when or how, being on the other side of the country from where I was living, but I knew I would do it at some point. This past June, the time had come.
If you've ever entertained the idea of hiking it, you may have checked out the WCT website on which they do everything they can to make would-be hikers take it as a seriously difficult endeavour. They describe it as "an experience that can bring even the most experienced hikers to their knees." I understand that there has been a rise of emergency evacuations of hikers on the WCT that have bit off more than they can chew, but I still think that this description is overkill. People should still take it seriously, read all the material and be properly prepared for what the trail entails, but it was far from being something that would bring an experienced backpacker to their knees. It was, however, ABSOLUTELY INCREDIBLE and well worth adding to any hiker bucket list. I'll go through my entire experience of solo backpacking it all 75km in 71 hours, from north to south, in this blog post.
Getting to and from the West Coast Trail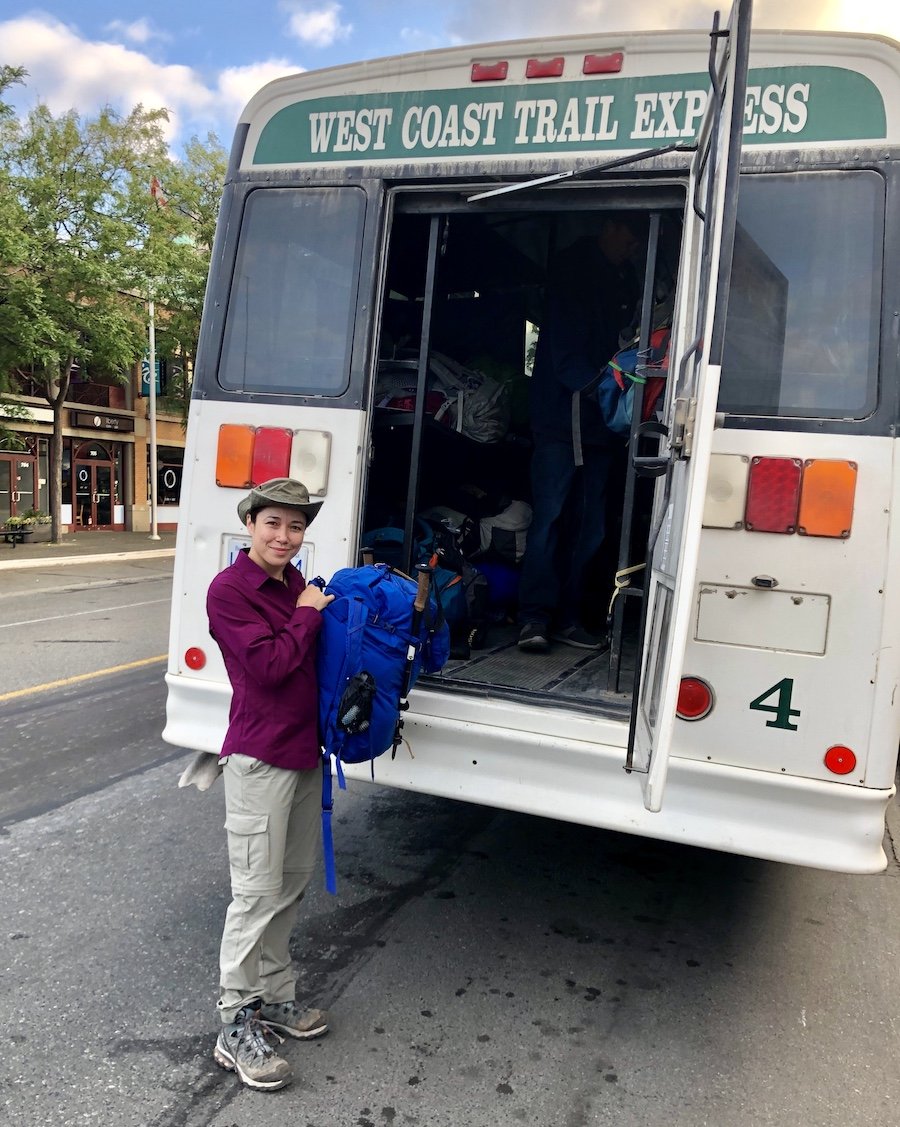 The West Coast Trail is not easily accessible. It is part of the ancient paths and paddling routes by First Nations tribes well before the foreign sailing ships started to arrive off the coast over 200 years ago. As the years passed and the number of ships sailing the Juan de Fuca Strait increased, so too did the number of shipwrecks and drownings along the coast, giving it the title "the Graveyard of the Pacific." Six shelters were eventually built along the trail, stocked with provisions for both shipwreck victims and their rescuers. You can still see some of those relics from the past along the trail as you hike. They helped people survive in those remote locations until their return to civilization. More on the history of the West Coast Trail.
Even today, the trail is remote. It's not a super accessible location, requiring some shuttling by way of car or bus. Most people drive their car to the Gordon River trail head and hike the WCT from south to north, taking the trail bus from the Pacheena trail head back to where they started. Because I didn't have a car, I took the West Coast Trail Express trail bus from Victoria all the way to Pacheena, walked from north to south, then took the bus from Pacheena back to Victoria. The drive from Gordon River to Pacheena was one of the bumpiest rides of my life, in a bus with zero shocks. Try to sit closer to the front if you don't want to be bounced around. The ride from Victoria to Pacheena is around 6 hours, so bring water and snacks if you need them. If you forget, the bus driver does make a stop at a convenience store around halfway so you can stock up there.
Please note that if you are planning to hike the WCT, you need to have a trail reservation. If you're planning to go closer to a weekend, or during the busiest summer months, you should reserve well in advance. I made my reservation only 2 weeks before, but I was also going in mid-June, arriving mid-week and exiting the trail on a Friday. Even at that, the south-to-north route was already fully booked, so my only choice was to go north to south.
Mandatory Orientation
In the interests of keeping hikers safe, everyone has to go through a 50-minute orientation session at the trailhead before they give you your trail pass. They have a scale to weight your pack while you wait for it to start. Mine was a mere 14.5lbs, food and water included (Check out 2019 Ultralight Solo Backpacking Gear List for West Coast Trail for more info on my gear and A Keto Hiker's Guide to Ultralight Backpacking Food). They give you a map with tide tables and provide all the rules and regulations for the trail. They'll also ask how many nights you'll be staying at which point you'll pay for your overnight camping fees. (*Details about fees for the West Coast Trail.) During the orientation, they explain a few safety procedures, like how to use the cable cars and dealing with local wildlife (i.e. bears, cougars and wolves). The orientations only run at 10am and 2pm at either trailhead, so you either stay the night at a local campground or motel, or settle for a shorter hiking day for your first day. I went with the latter, starting at 3pm after the later orientation.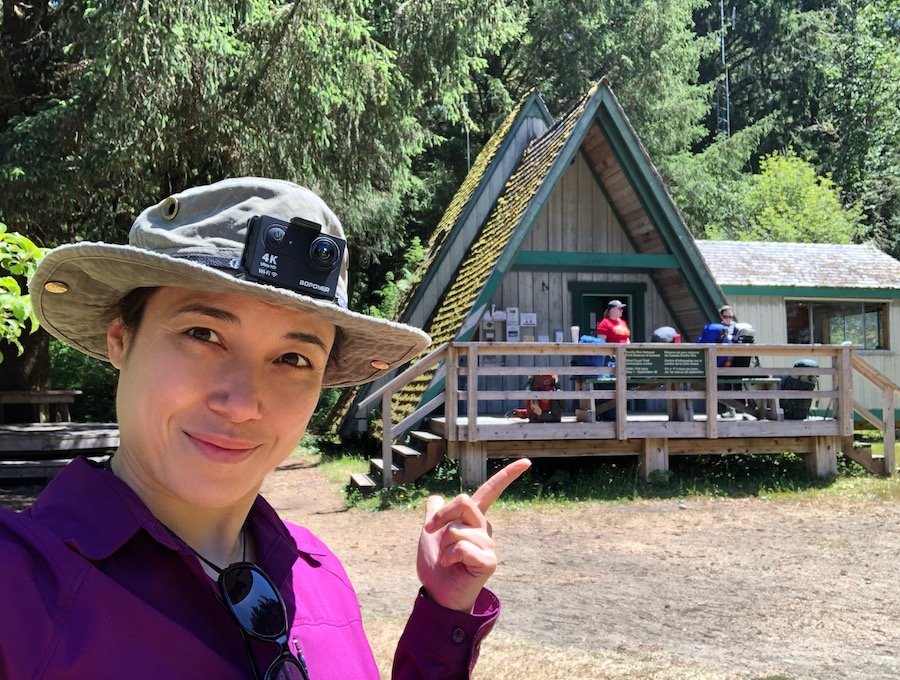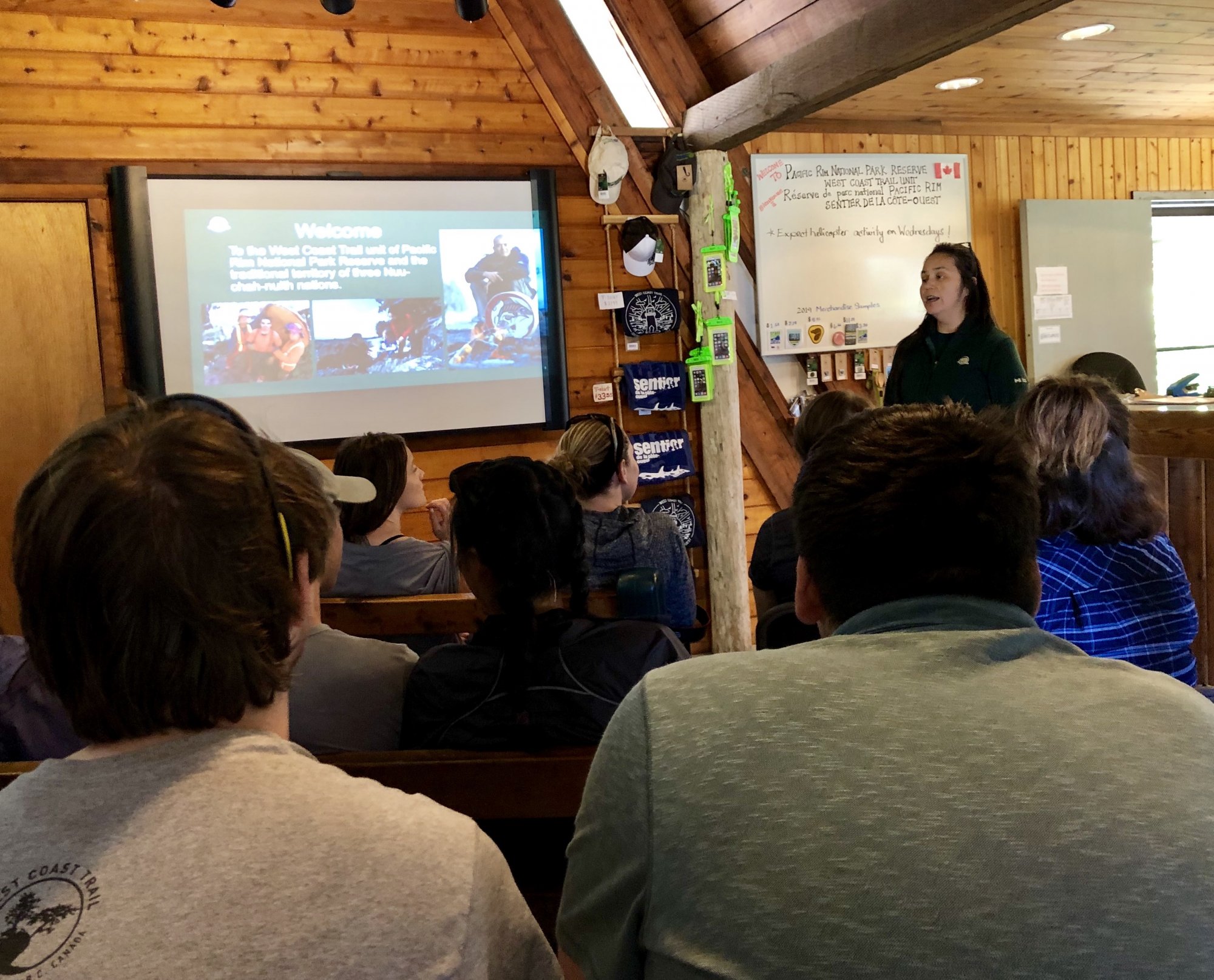 Choosing a Path: Forest or Beach
Most sections of the WCT have both a forest and a beach trail. If the tide is low enough, you can trek right on the shore, if not, then you are relegated to the forest, not that this is necessarily the worst option. While the views on the shore are jaw-dropping, and the route is usually more direct, you have other factors to contend with like being exposed to sun and wind, walking across slick, wet surfaces, bouldering across bigger rocks, and worst of all, sinking into sand or gravel, which slows you down and saps your energy. I found that I was able to move more quickly across the forest terrain, particularly in the northern half of the trail. But other sections weren't as well maintained or were overgrown, and if the conditions were more rainy, it would have been really muddy.
Getting Started on the West Coast Trail
Day 1: Pachena Bay to Tsusiat Falls (23.5km in 6 hours 45 min)
Having a late start, and a goal of reaching the famed falls, I knew I would have to move quickly. With the tide high, I raced out onto the forest trail, having been first in line to get my trail pass. After about 5 minutes, I encountered the first of the 100 ladders for which the West Coast Trail is notorious. I went up a few and down a few. Some sections had a few shorter ladders in rapid succession. Others had one or two much longer ones.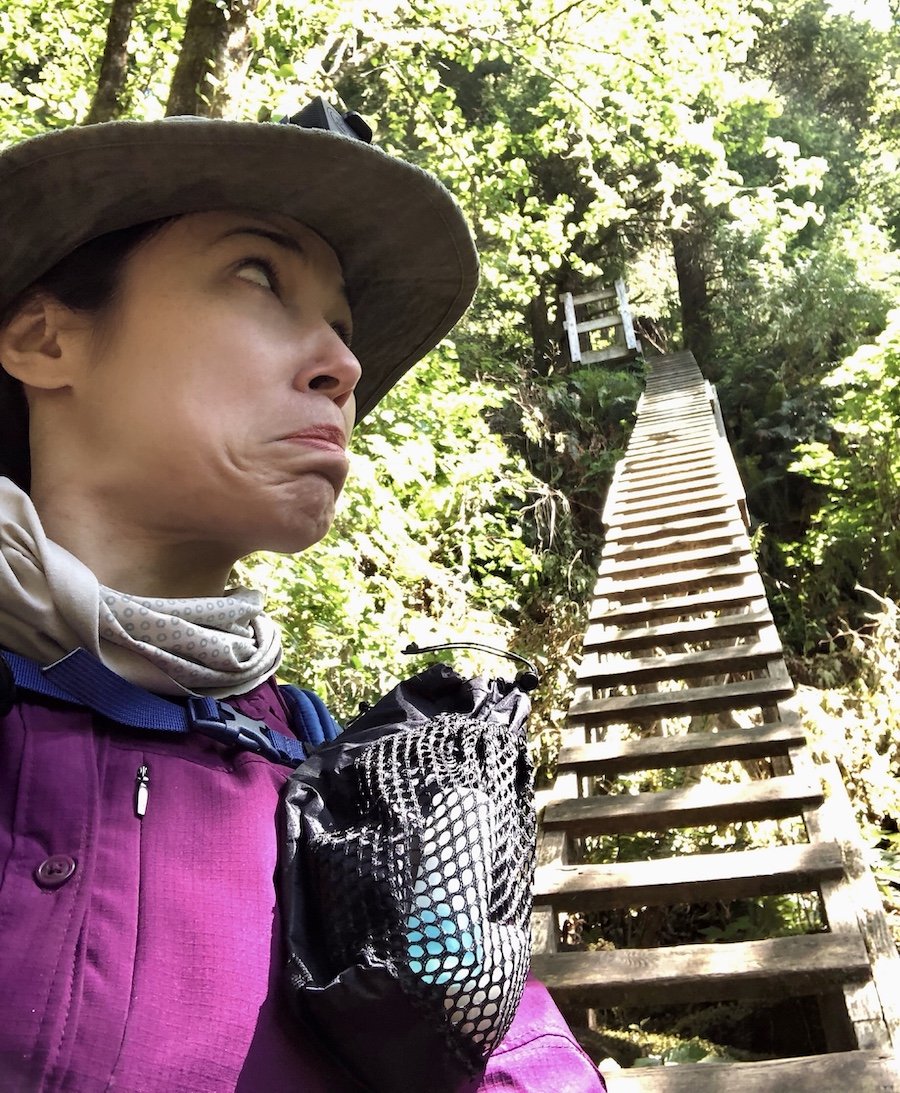 I was really happy to be travelling solo and with an ultralight pack as I went through the ladder sections. The rule is that only one person can go up or down a ladder at time, which means if you're with a partner, you have to wait for them to finish their climb before you can begin yours, or vice versa. Multiply that process by however many hikers you have in your group and it can slow the whole process down to a crawl. Add in a pack 30-60lb pack weight, and each person ends up taking even more time to go up and down safely, often stepping both feet up a single rung before stepping up to the next rung. With my starting pack weight of around 14½lbs, I was taking them one foot per rung. And if I ran into a group, that was about to start their ladder ascents, they would always let me go first as a solo hiker, as a courtesy.
Even the forest section may not seem like the more glamorous option, it did not disappoint. The trees and surrounding forest had their own beauty, and there were a number of cool relics along the way, including a derelict motorcycle, First Nations carvings in some of the walking boards, the first of the two derelict donkey engines used for dragging logs in days past, as well as a tree spirit that greeting me as I hiked.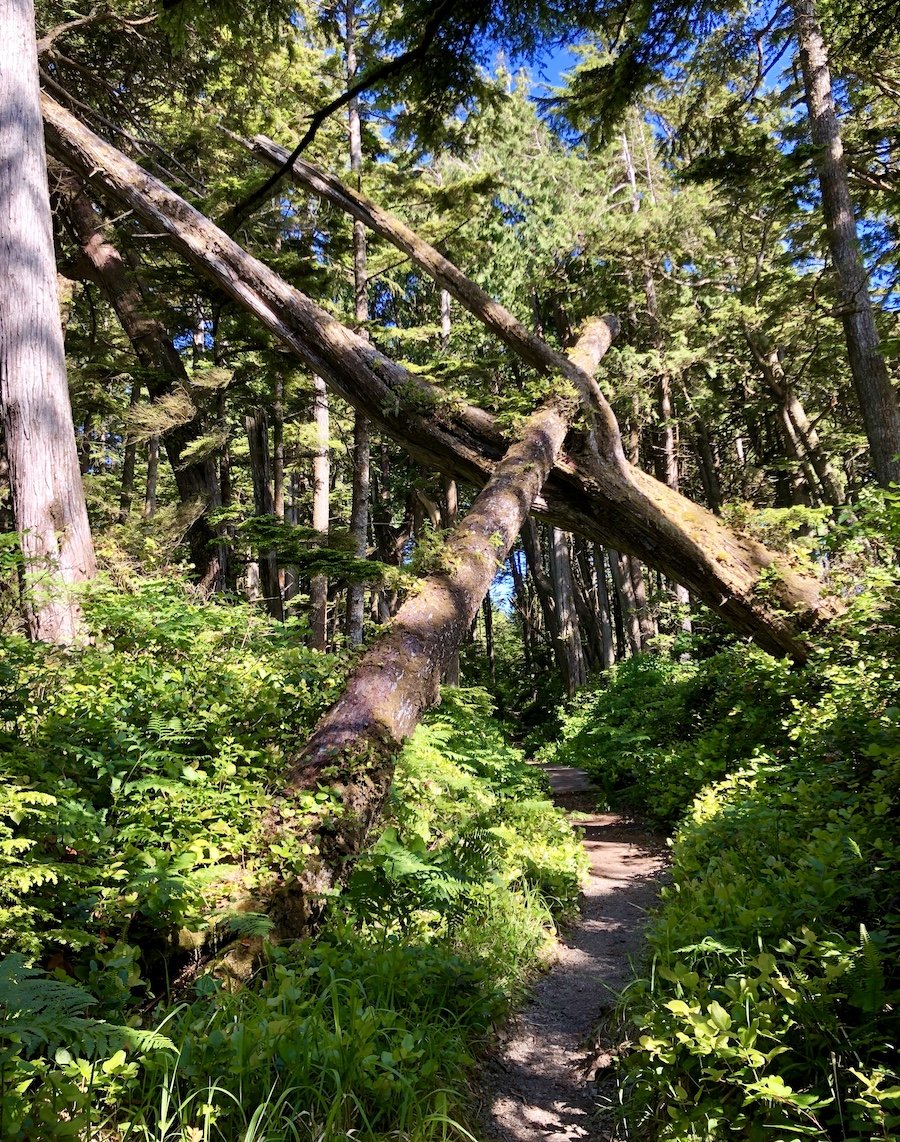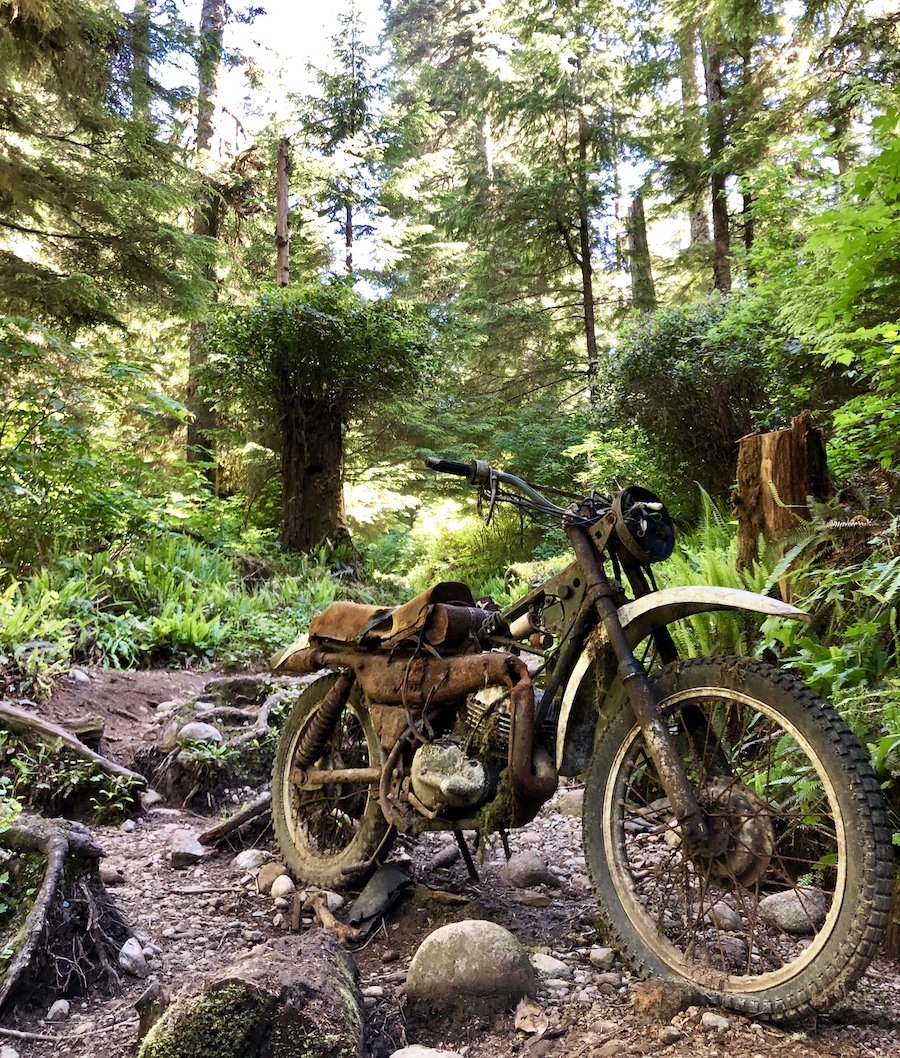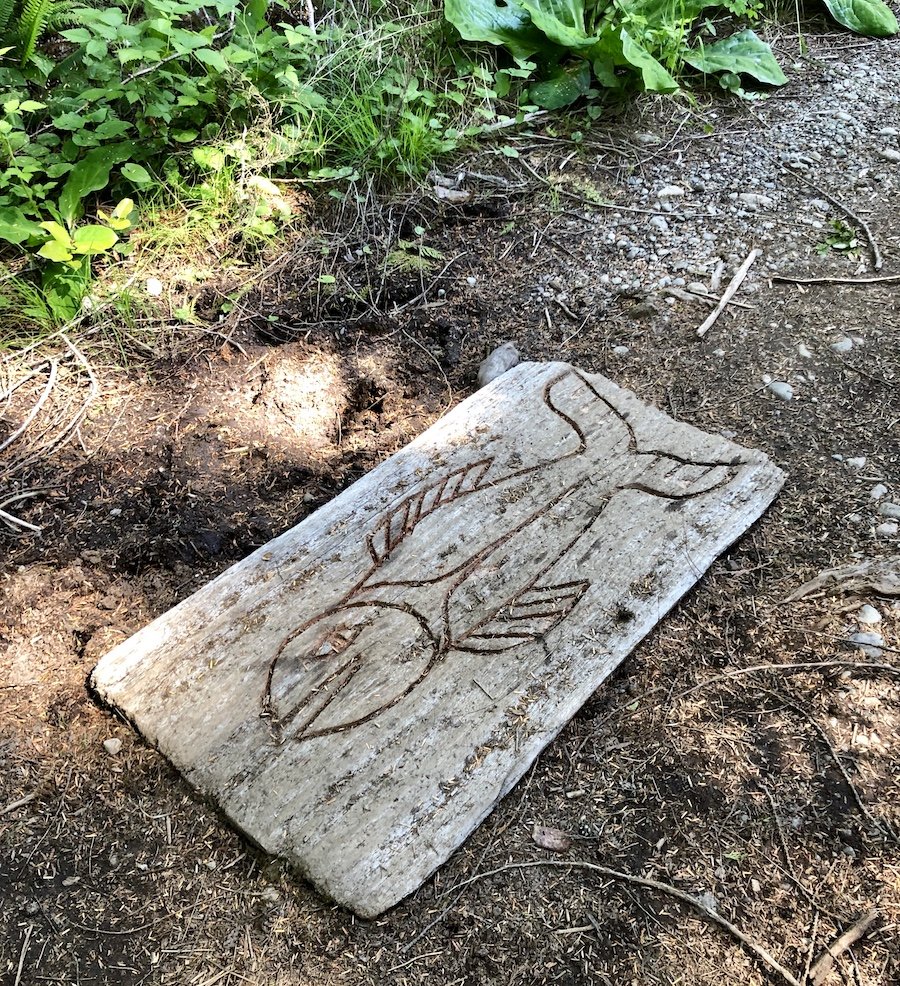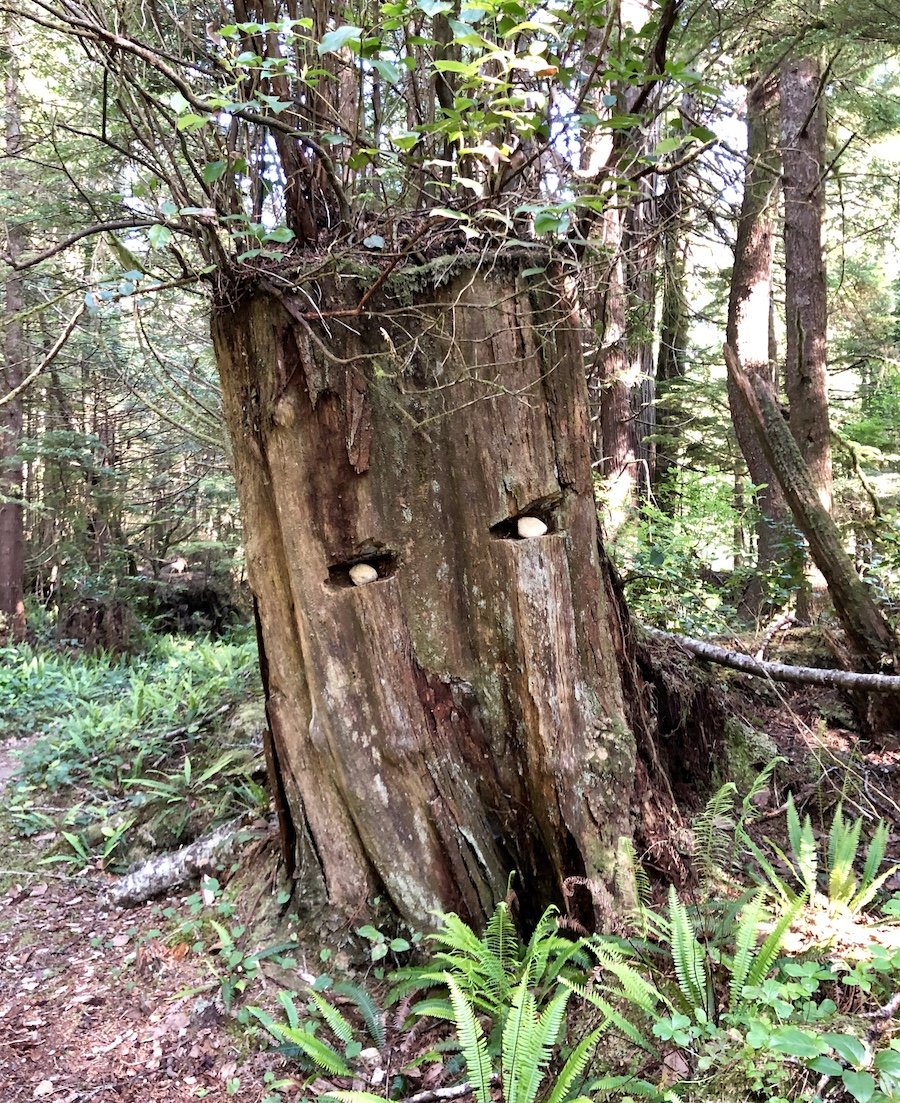 While I wanted to move fast, I also didn't want to miss any cool sights along the way. I still took the additional side trails to visit the sea lion haul-out rock and the Pachena Bay Lighthouse, just long enough to see what there was to see then move on. I had never seen a large group of sea lions in their natural habitat before. As predicted in the orientation, I could hear and smell them before I was actually able to see them. It was cool to see them ambling along the rock and playing. Pachena Bay Lighthouse is an active lighthouse, in the care of the coast guard. I'm glad I saw it, but nothing to write home about after seeing far more picturesque ones on the Oregon coast recently.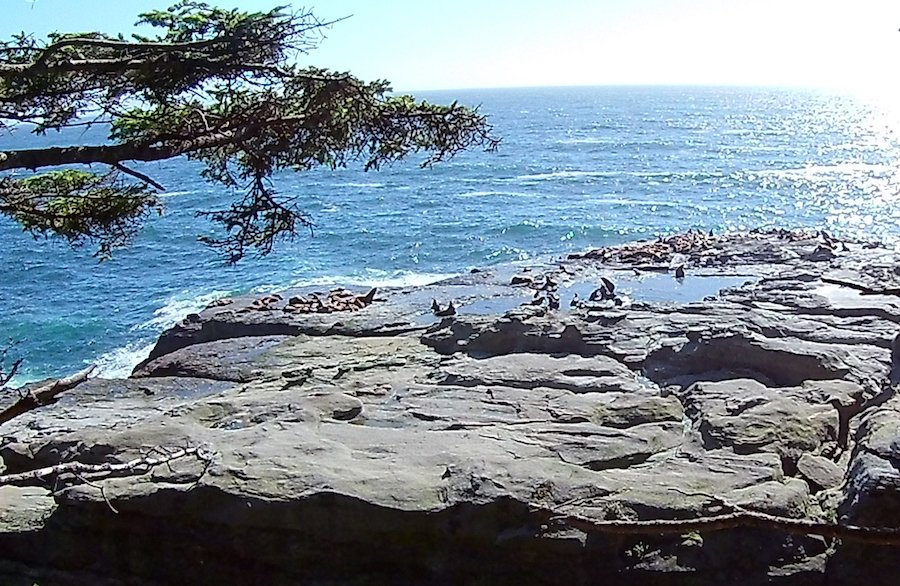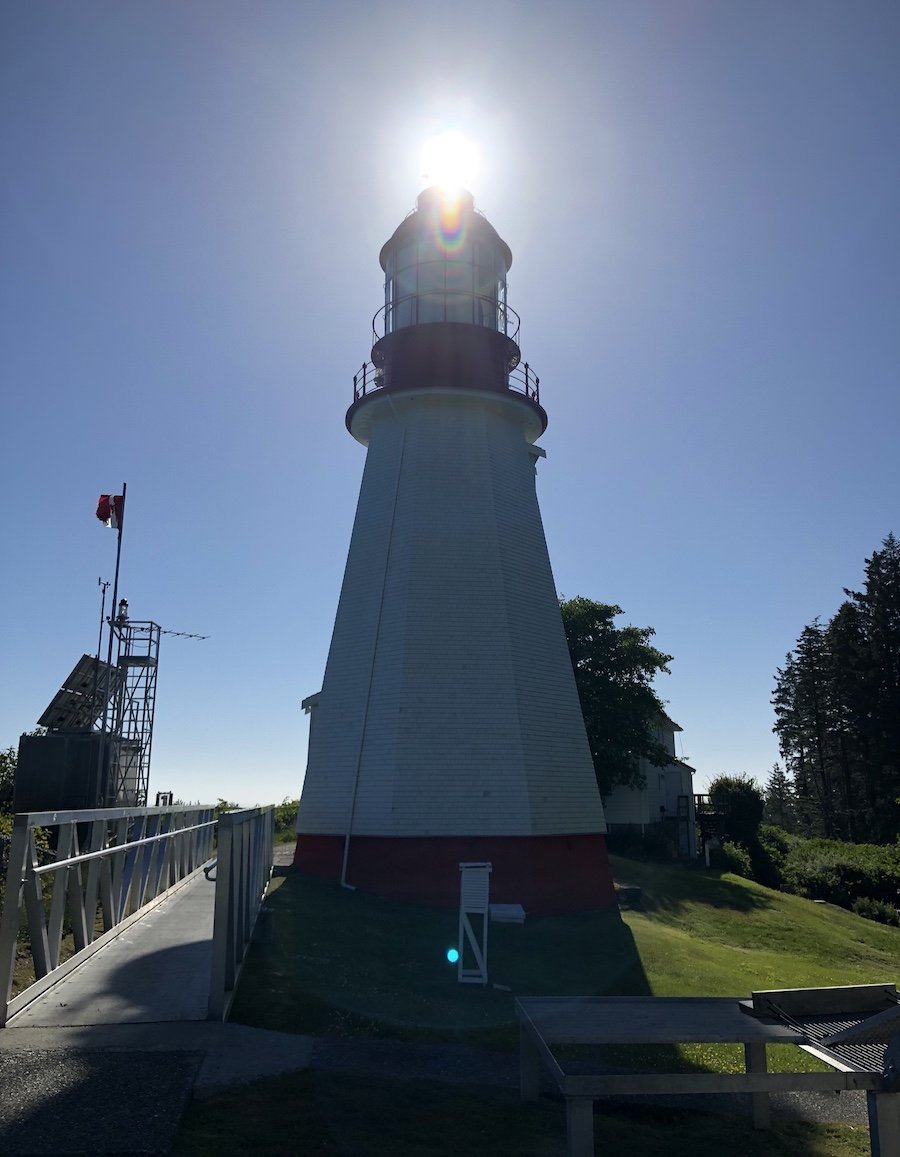 Greeting the Coast
When starting as late in the day as I did, hikers usually opt to camp at one of the first campsites on the trail, either Michigan Creek at the 12km mark, or Darling River at the 14km mark. I pressed on, wanting to make as much progress as I could during daylight hours. When I arrived at Michigan Creek, the tide was low enough to head out onto the beach, where I could enjoy the late day sun kissing the coast. It wasn't even the most beautiful beach section, but because it was my first entrance onto the beach trail, it still prompted an awe-inspired gasp. For the first few kilometres, I couldn't help but grin and laugh at my being where I was, loving every minute of it. I enjoyed looking out on the vastness of the ocean, watching the waves crash, seeing little crabs all over the tide pools. It was amazing.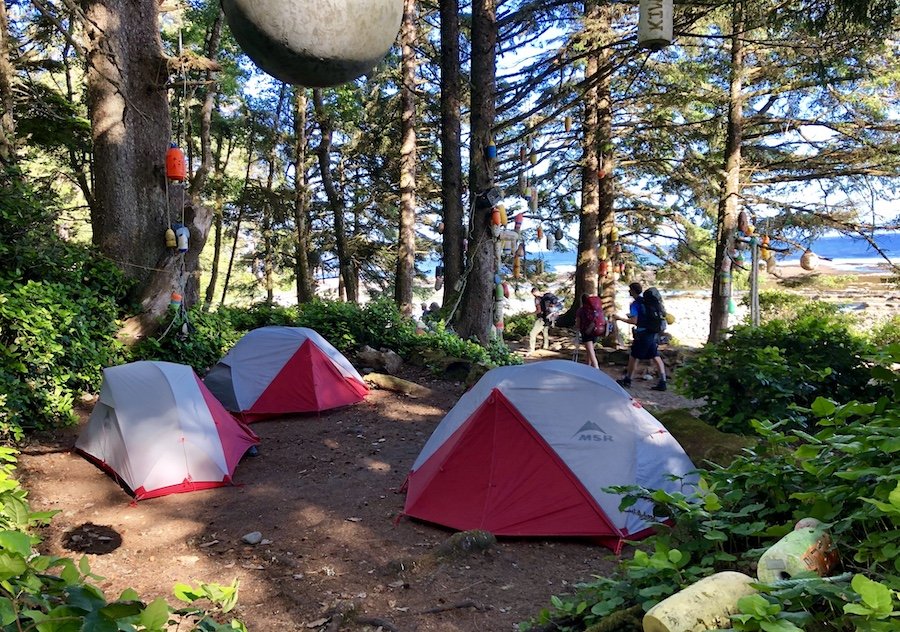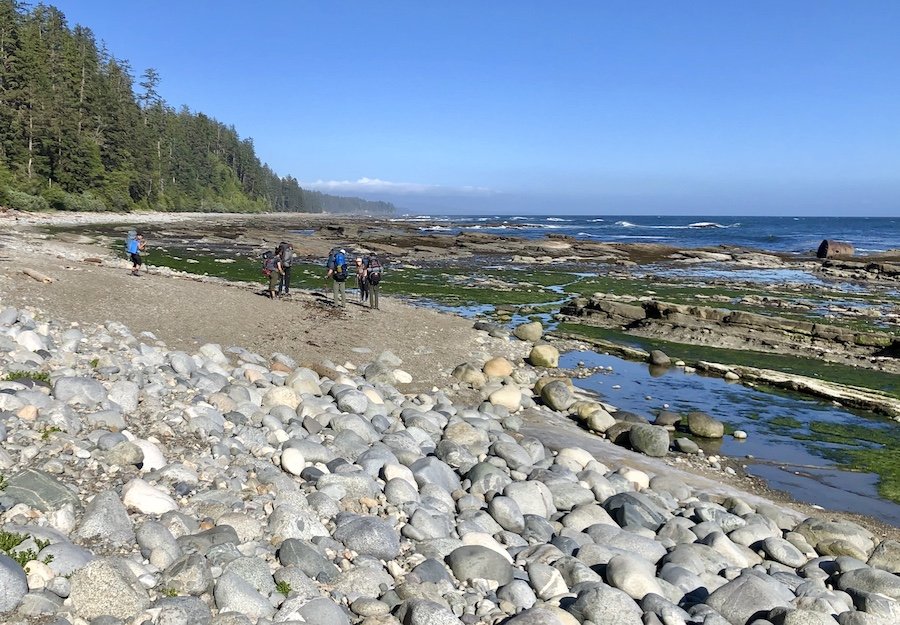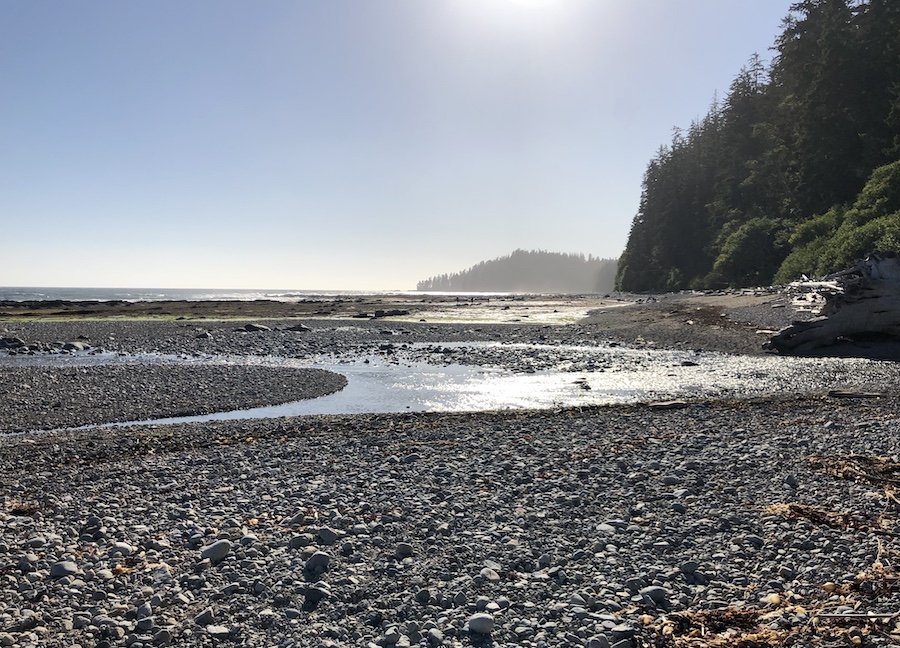 As I travelled, however, I realized that I wasn't moving as quickly as I was in the forest. Part of it was because I was enjoying the views, which wasn't a problem of course. The part was because I found myself sinking into gravel, or having to pick my way across slippery rock sections, which was more of an issue to me. If I'm moving, I want to move. I don't mind stopping and enjoying views, or enjoying views along the way as I move quickly, but I dislike being slowed down when it's not of my own volition, especially when I'm trying to travel 25km in less than 7 hours. On top of that, it was a little more tiring being on the beach. Fortunately, the trail forces you back into the forest at Tsocowis Creek, giving me some gorgeous views overlooking creeks and sea from high above, as well as a break from beach hiking.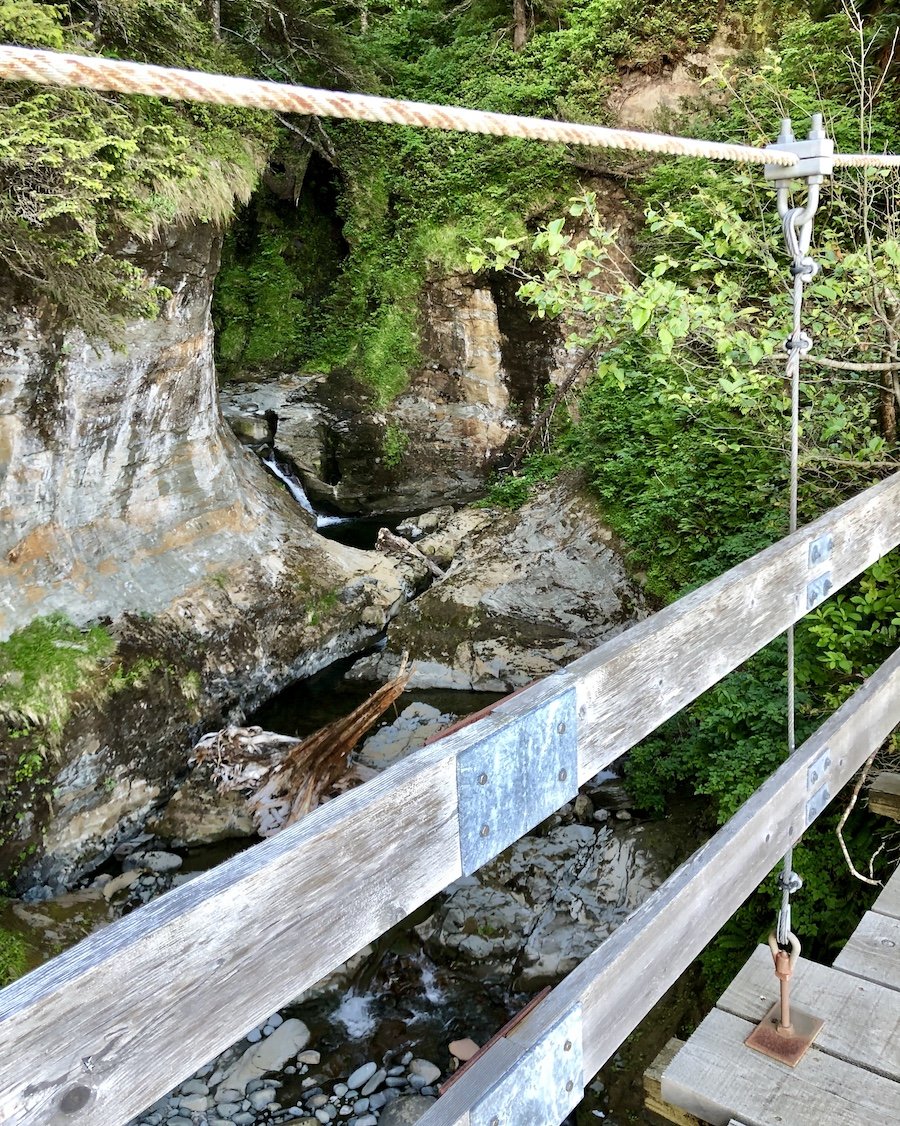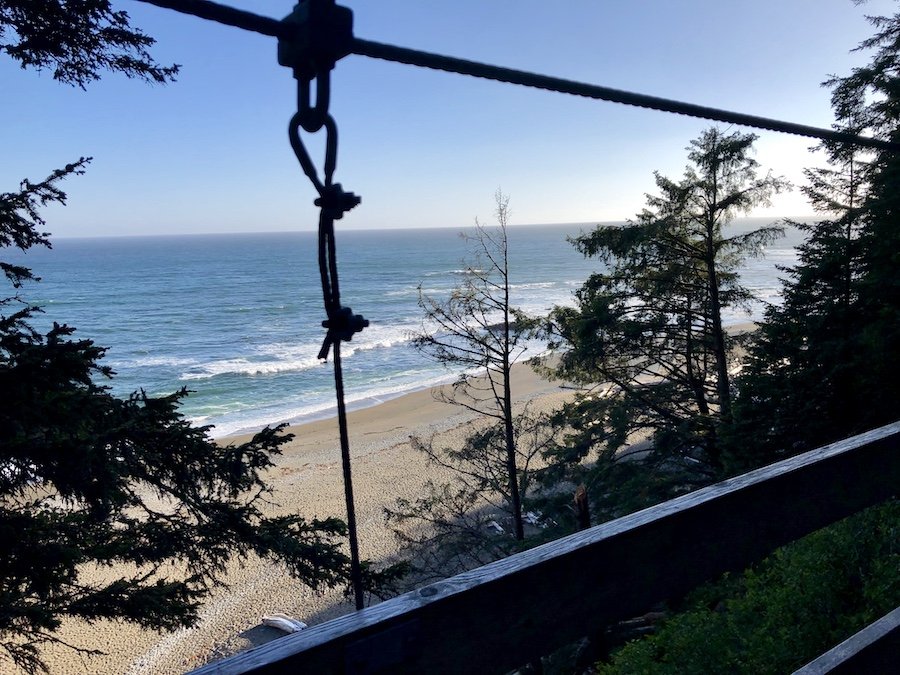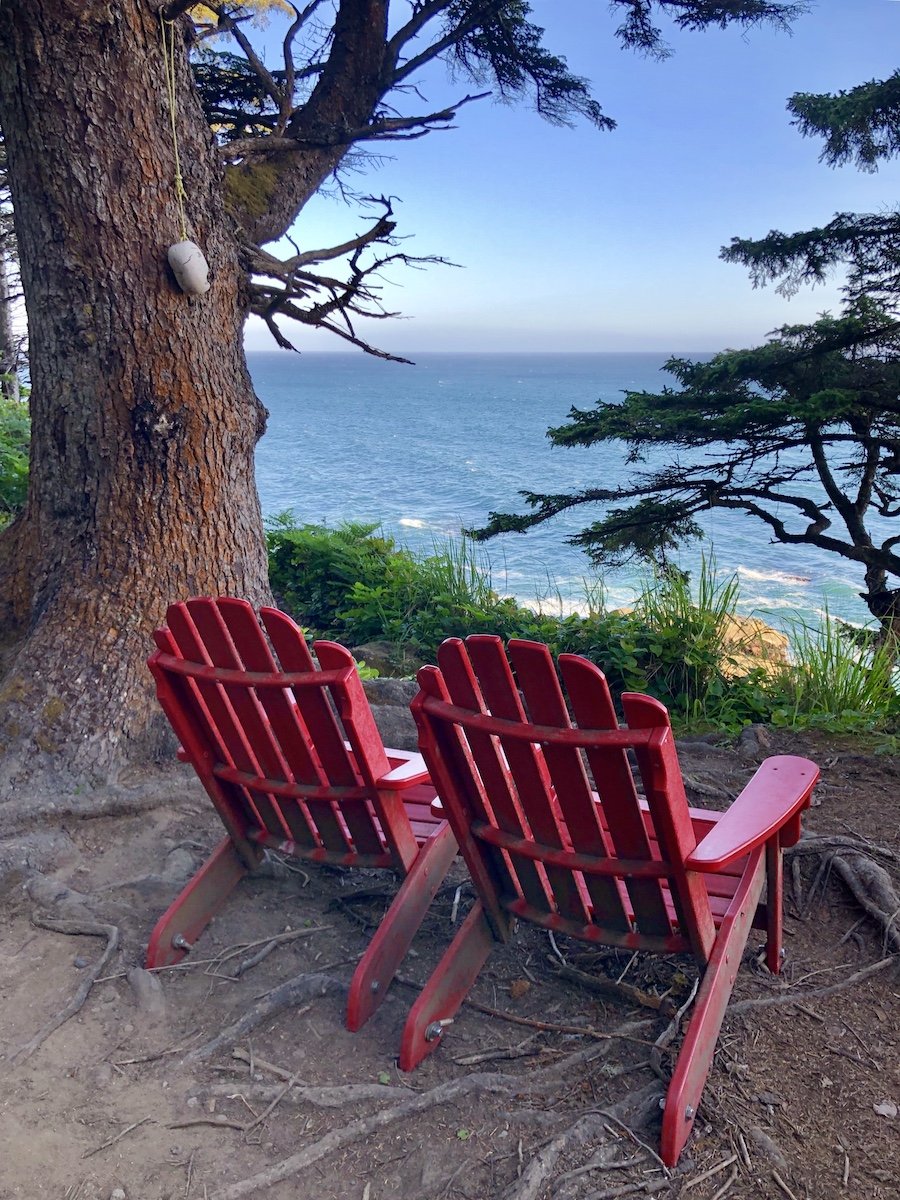 To Camp Earlier or to Continue?
I broke my fast at 6pm, nibbling on trail mix and dried sausage as I kept hiking, happy I had eaten such a huge meal at my friend's place in Victoria late in the evening the night before. As my shadows grew longer, affording some beautiful lighting on the coast, I was acutely aware that I still had a good few kilometres to go. I felt weariness starting to set in. As I hiked, I dithered about whether or not I would hike all the way to Tsusiat Falls after all. I was tired and ready to wash up and have a hot meal. I also wanted to have more time to set up my tarp and relax a little at camp. The more I hiked, the more tired I got, the more this idea seemed like the best one. I decided that I would camp at Klanawa River rather than hike the extra 3km to the falls. I was just ready to be done.
I got to the cable car at Klanawa, heaved it to me, and jumped in, eager to cross and get to the camp area. I didn't bother to take off my pack as advised during orientation. A lighter pack made this entirely practical and way easier for me as a solo hiker. As I rode the cable car down to the centre I looked out to my right... and saw the camp area was back where I came from, not on the other side. I muttered a few expletives, and figured that the fates had decided that I was to continue on to the falls, that and I so didn't want to heave myself back up where I came from after all that.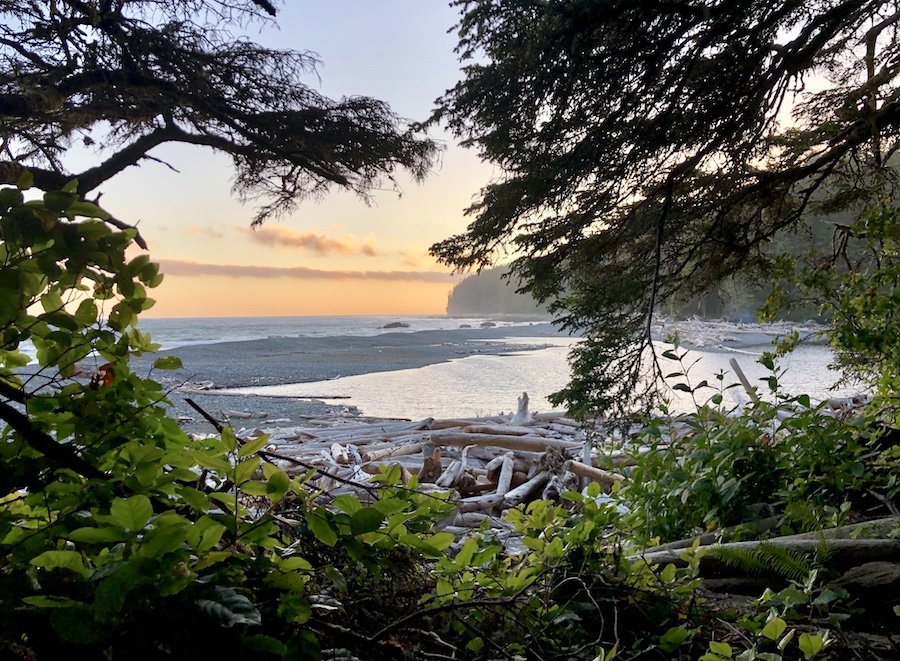 Arriving at Tsusiat Falls
The sun had already dipped below the horizon though, so I knew I had to move quickly. I practically ran the last 3km through the forest bursting out onto the scene at the beach camp at 9:45pm, where I startled a group of fire fighters who had settled in to a campfire for the evening. I immediately dropped my pack asked if it was okay for me to leave my stuff there while I went to the falls get cleaned up. I barely waited for a reply before running off toward the falls. I playfully ran into the frigid waters, grateful to be done for the day and allow the sweat and grime to stream off my body.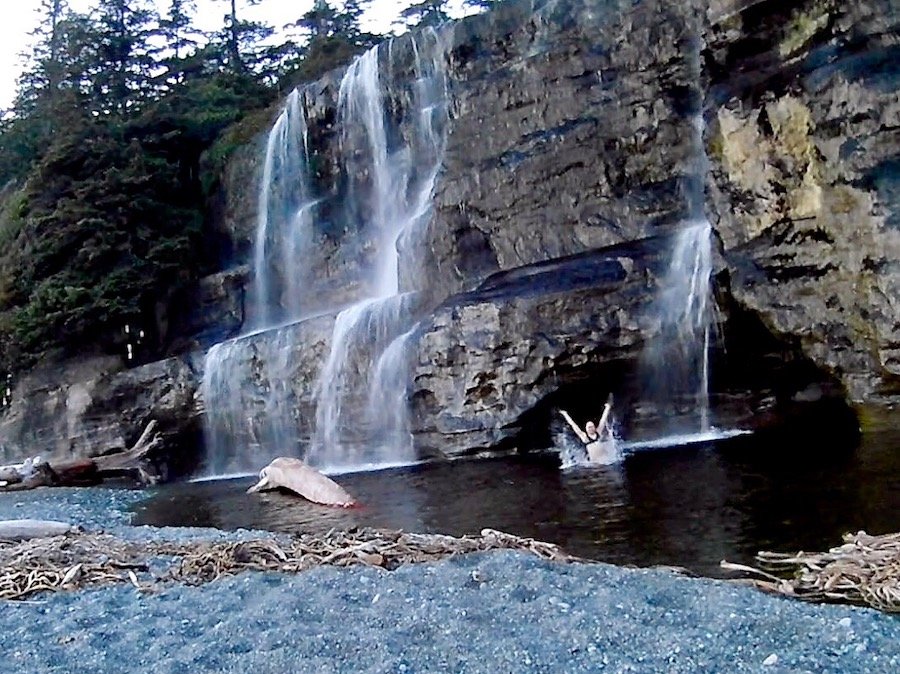 After a quick rinse, I tromped back to my pack, still dripping wet in my modestly cut underwear, where I dried off amongst the now silent group of guys. As I towelled off, one of them spoke up and broke the silence: "We have so many questions..."
As I hurriedly set up my stove and got my water boiling for dinner, I introduced myself to the group of fire fighters from Barrie, Ontario that surrounded the fire. They indeed had many questions: Was I hiking alone? Where did I start my day? Why was I hiking so late? How was my pack so small? Where did I get my tiny stove from? Mostly they were just curious about the weird, wandering woman who unexpectedly bust into their cozy campfire like she owned the place after everyone was already almost done for the night.
Sharing Fire with Firefighters
They were such a lovely bunch. They shared their fire and gave me water so I didn't have to waste time filtering. We chatted about each others' hiking itineraries. They were taking their time, hiking the trail south to north over 6 days. They were surprised to hear I had already hiked one third of the total distance of the trail in my first 7 hours.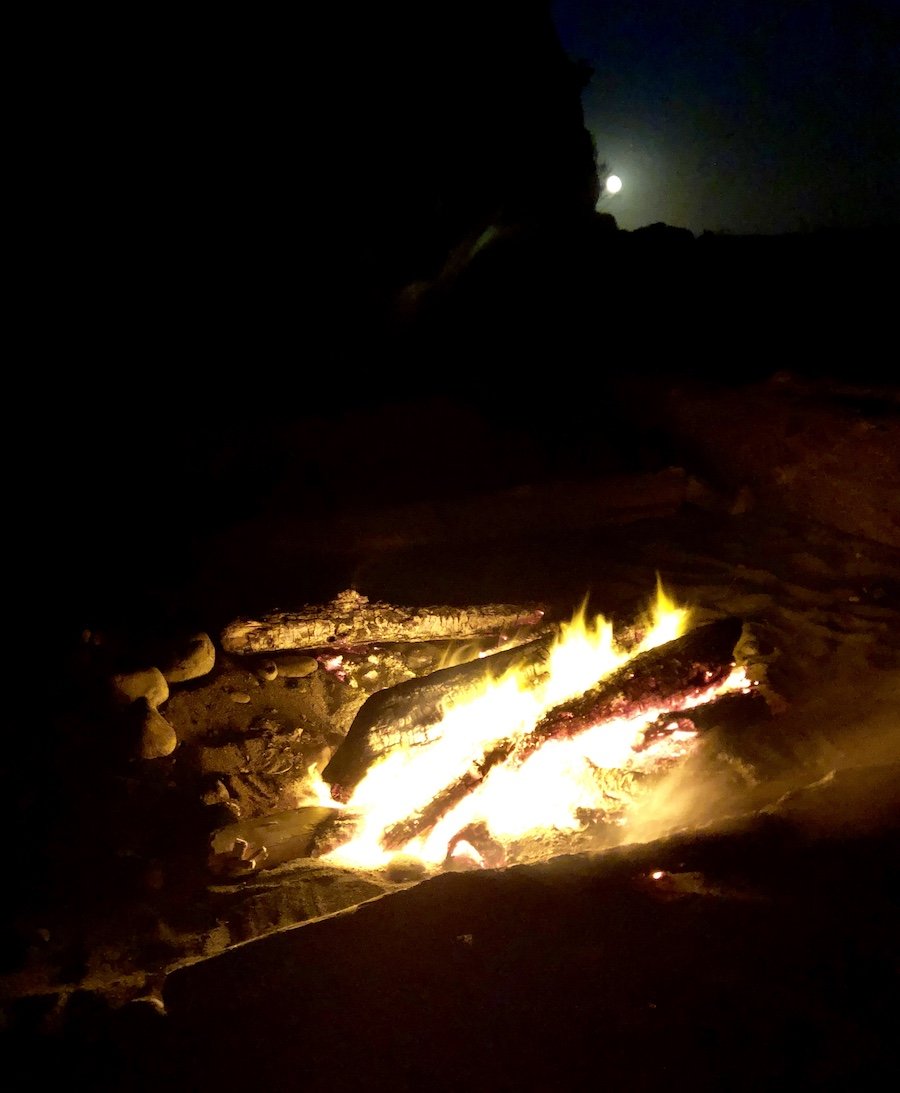 I decided to cowboy camp (...or is it cowgirl?) and didn't bother to set up my tarp since it wasn't a cloud in the sky and I was able to find enough of a wind break by setting up amongst some large logs. As I set up, Brian, one of the kindly fire fighters, told me that I was welcome to come back and enjoy the fire some more after I got set up. I thanked him, finished setting up, brushed my teeth, then stowed my food bag in the bear bin before heading back. When I got back, everyone had turned in for the night. Brian was still there, napping stretched out on a log. I greeted him and he told me stayed up because he knew I was probably going to come back and didn't want me to come back to an empty, unlit fire pit. We chatted for another half hour or so, enjoying the light of the moon as it rose in the sky, lighting up the whole beach behind our campfire. After we put out the fire, I found myself crawling into my bivy sack at turning off my flashlight at midnight. I fell asleep to the sounds of the surf and its unending drone of white noise at the end of a magical day.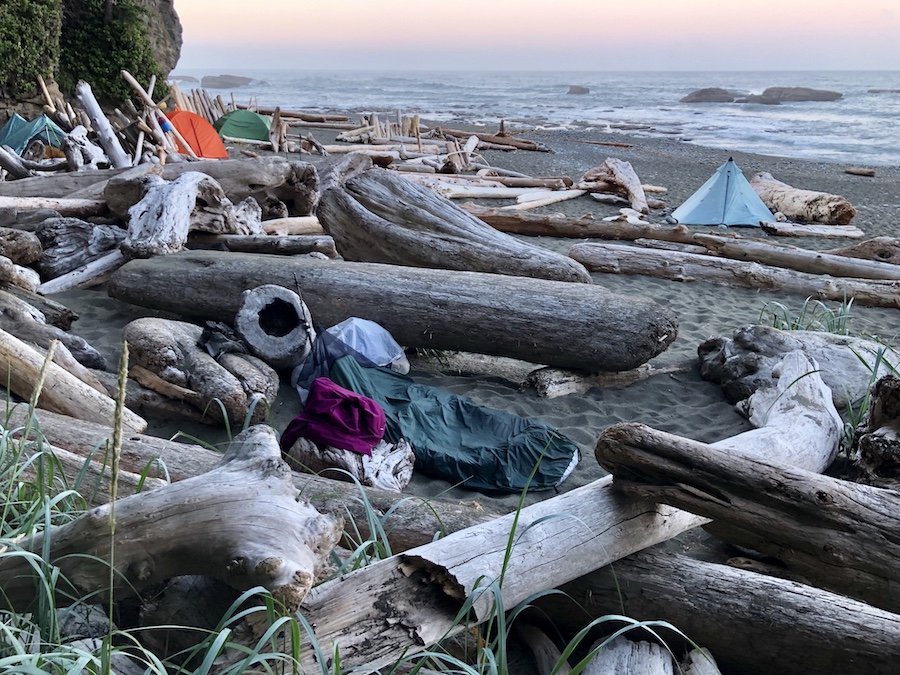 Early Morning Tracks
Day 2: Tsusiat Falls to Bonilla Point (24.5km in 8.5 hours)
I woke up at 5am the next morning. I usually wake up with the sun, regardless of how late I stay up, sometimes I'll force myself back to sleep. This was not one of those times. I wanted to wake up and experience early morning hiking along the beach trail. I went and filtered my water for the day, made myself a cold coffee, broke down my camp and packed up.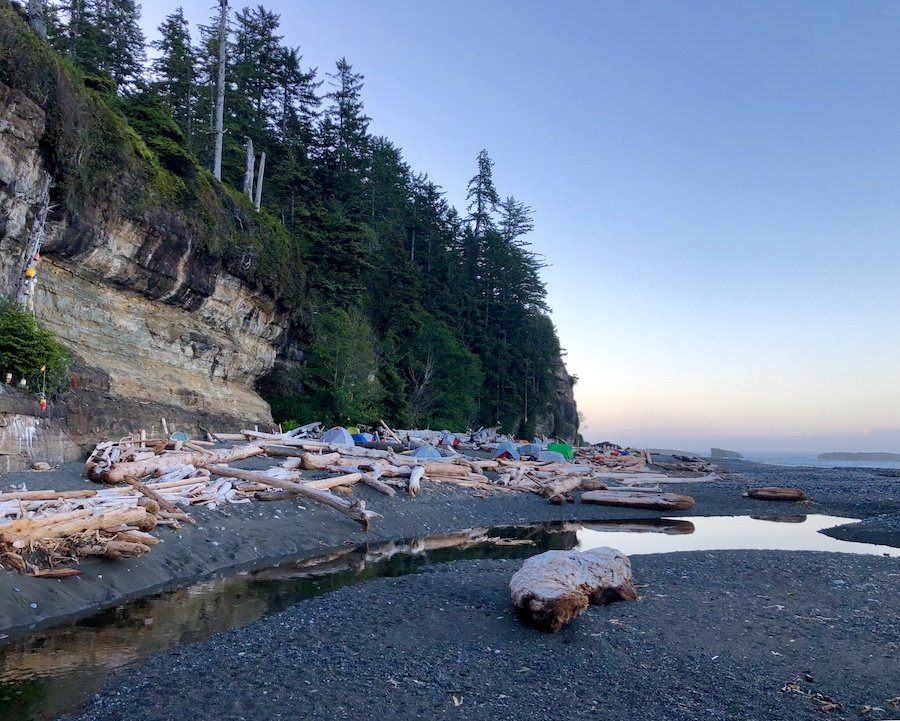 I meandered over to where the fire fighters were camped, hoping to wish them well before heading on my way. They were stoking up a morning campfire to enjoy. I suppose that is one of the luxuries of taking more time on the trail. It is something I would probably be more into doing with my husband or with friends, but when I'm on my own, I just want to move and enjoy nature that way.
I was in luck. Brian just poked his head out of his tent as I was preparing to go. I thanked him and his buddies, those that were up anyway, for the hospitality and headed on my way. We shook hands and he wished me luck. With a touch of sad sentimentality, I gave him one last look, knowing I would probably never see him again.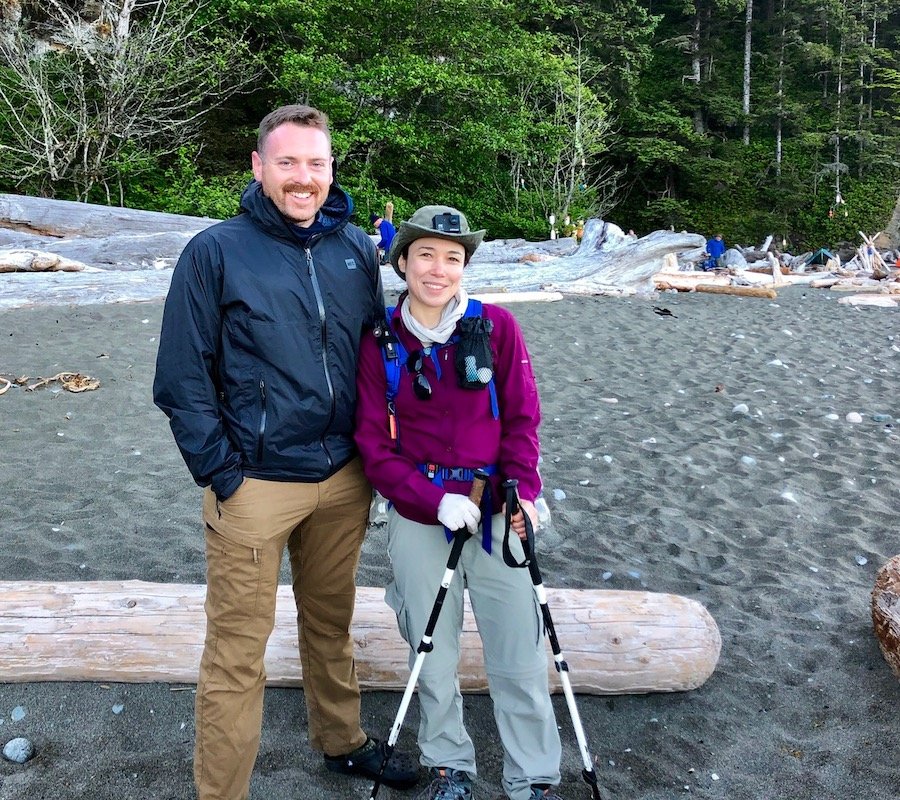 It's like that with the people you meet on the WCT. You share a kinship with all the hikers you encounter. You may all with a different approaches, different backgrounds, but you're all enduring the same quest, absorbing the beauty of the trail in your own way. Every encounter you have with a hiker is its own unique experience, whether it's a brief passing, or sharing a campfire for an evening. And when you say goodbye, it's a forever kind of goodbye, the kind that makes you want to seize each moment and tattoo it in your memory.
I walked in the morning light in silence. There were no other hikers on out yet. The only tracks on the beach were mine. I take that back. The only human tracks on the beach were mine. I ran across several sets of bear tracks and wolf tracks as I hiked, near to the iconic "hole-in-the-wall" point on the way to Tsusiat Point.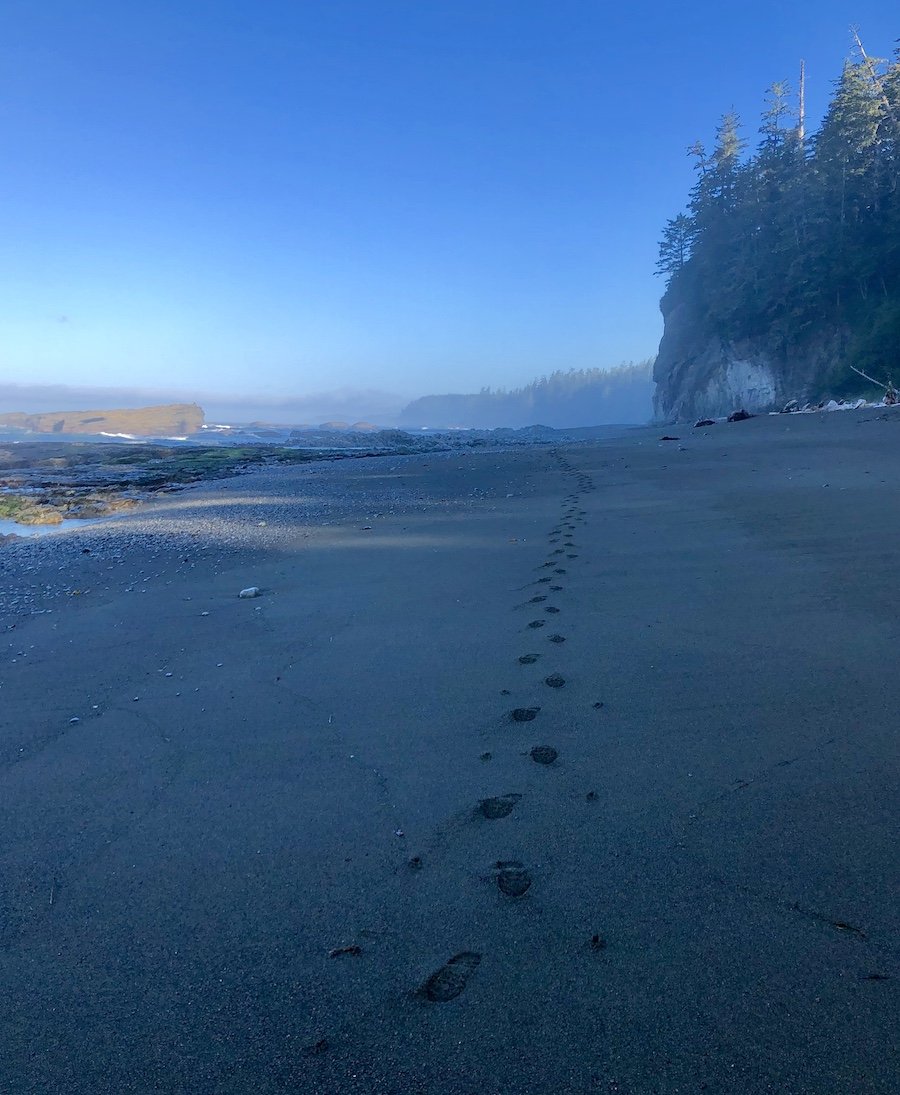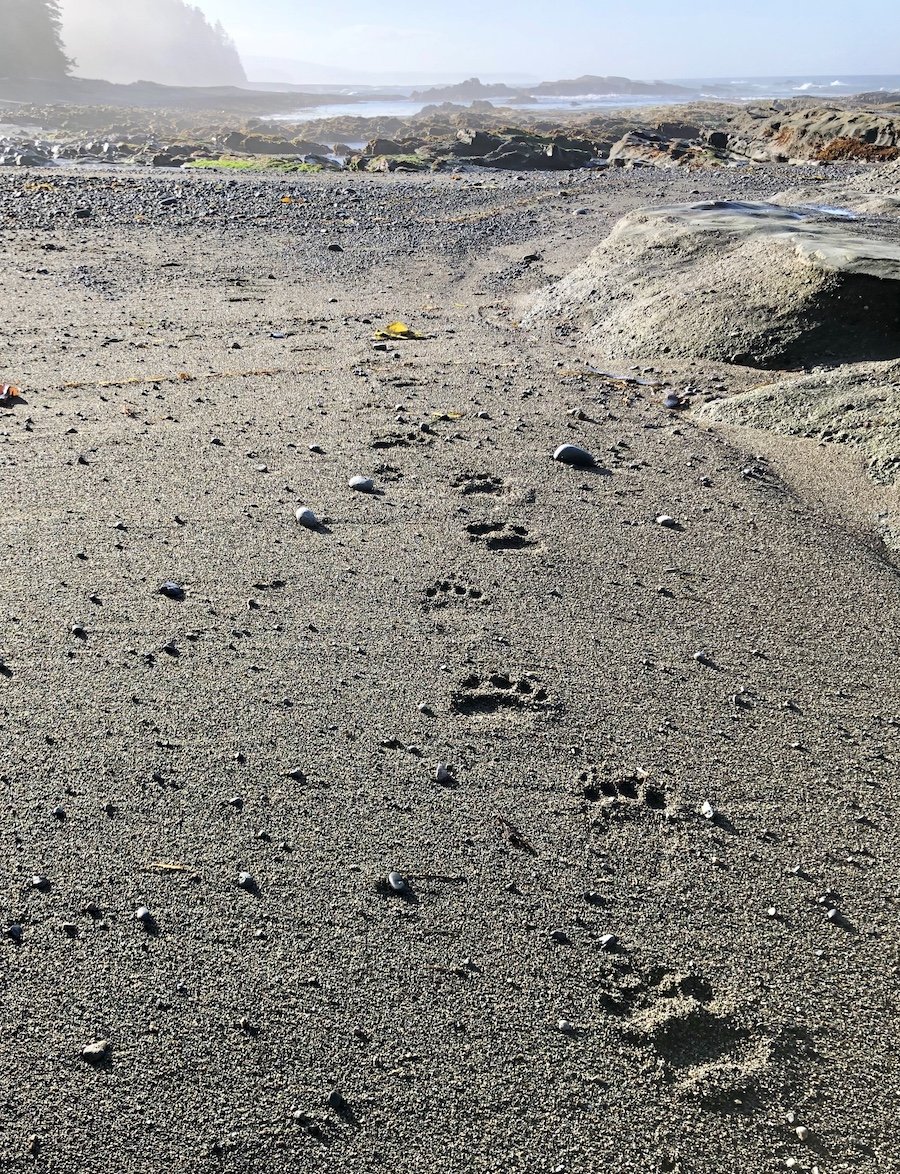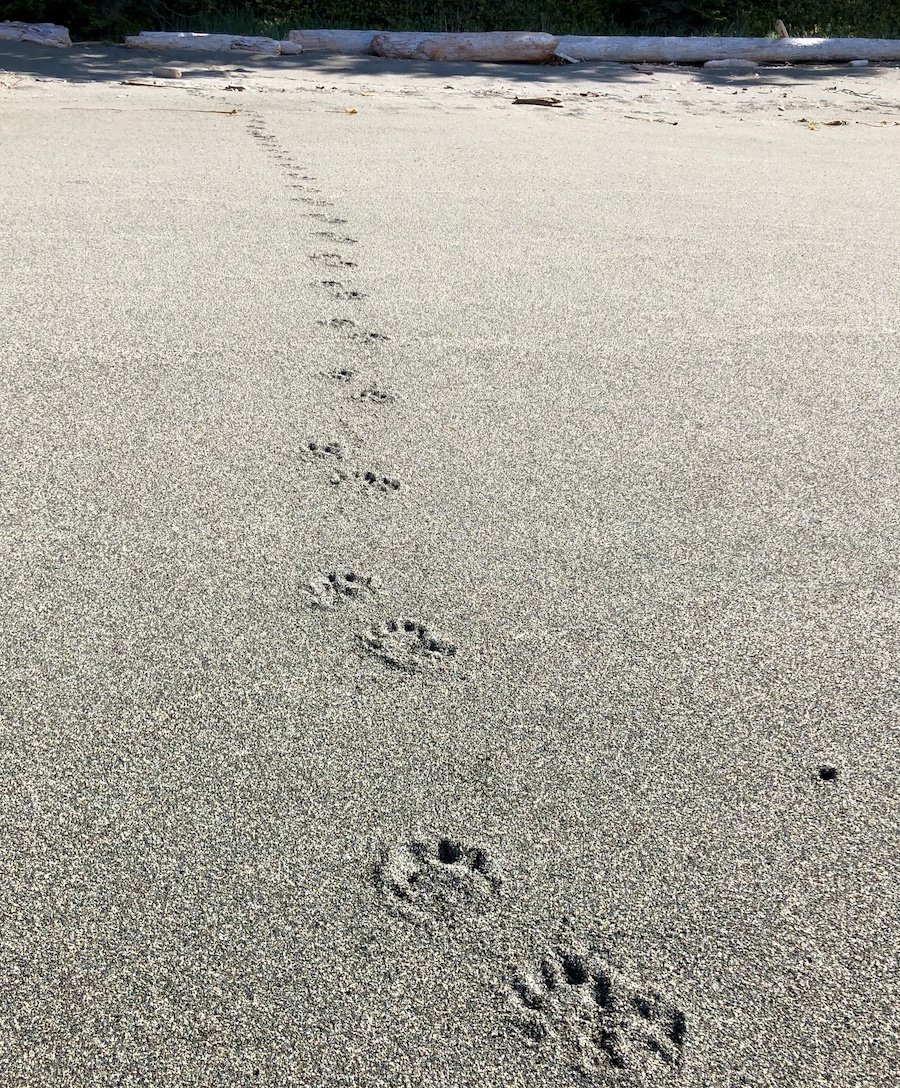 Even though I was alone on the beach with all these signs of animal life nearby, I couldn't help but appreciate the pristine beauty of the unspoiled coast being kissed by the morning light as the sun slowly rose into the sky. It light up the rock formations in such a breath-taking way. It felt like I was walking through a portal into another dimension as I hiked through the hole-in-the-wall.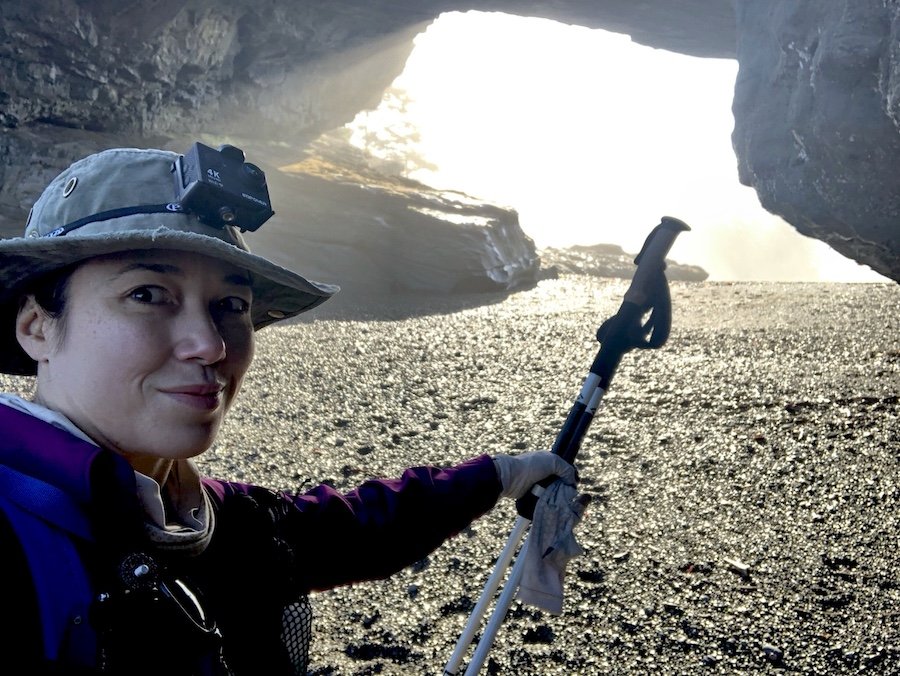 The tide was low, so I kept walking along the beach as the sun rose in the sky, making my way around Tsusiat Point, which had a small sea cave for me to walk through. Apparently, I overshot and walked past the forest trail access point I was supposed to take, staying on the beach all the way to Tsusquandra Point, where some trail guardian's cabin is. I was looking around, trying to figure out where I was suppose to go next to get back on the forest trail. He waved and pointed me in the right direction.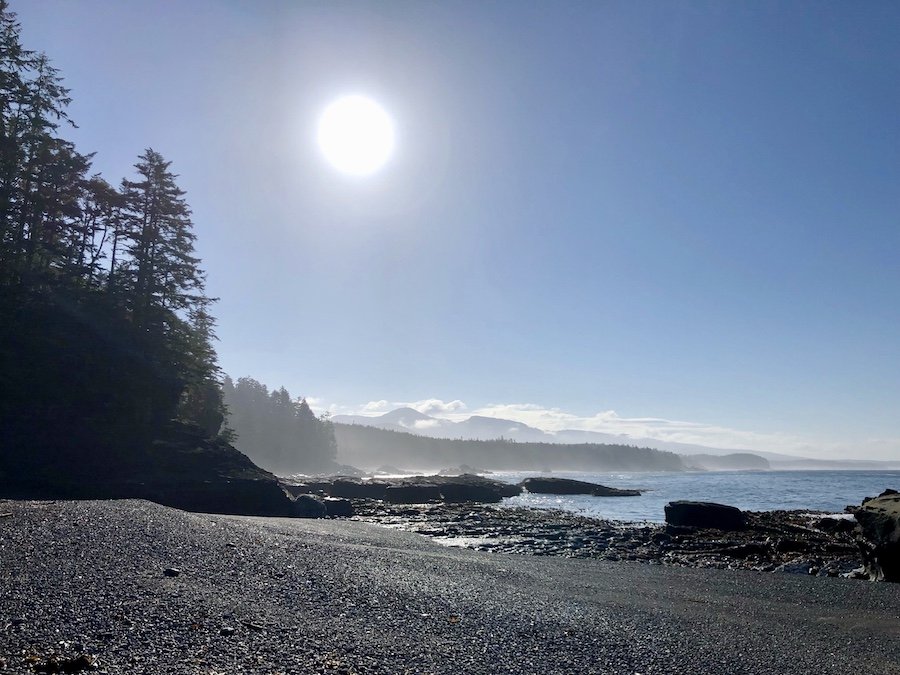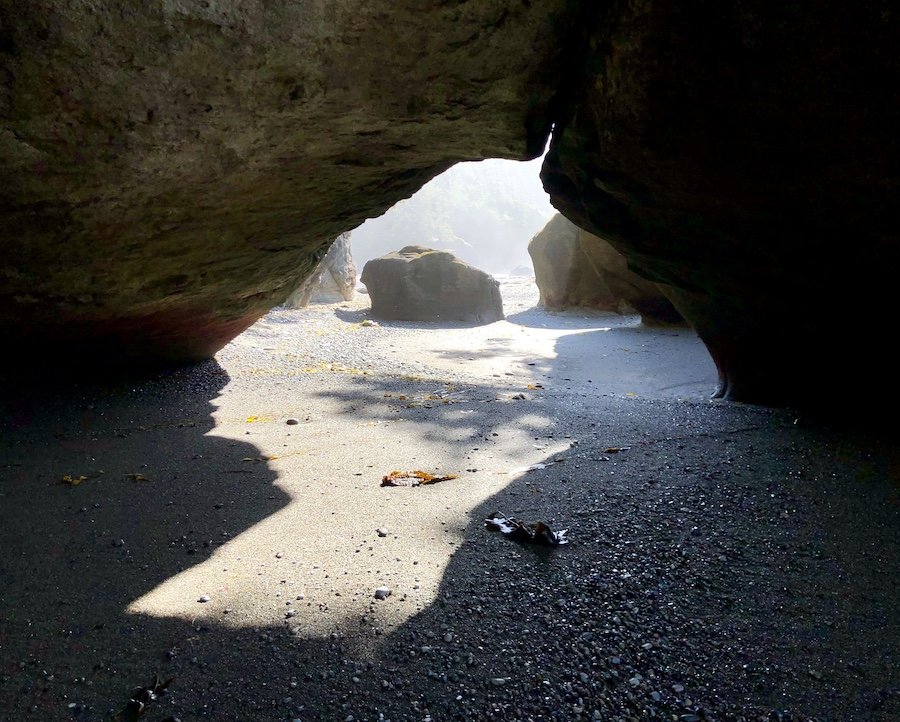 The trail guardian there also maintains some comfort cabins that hikers can stay in should they get caught in terrible weather and want a break from it so they can dry themselves and their gear off. They let me know that I had overshot, but that it wasn't a big deal at low tide. When we chatted about my hike, he was surprised at how far I had come since 3pm the day prior. When I asked him how long it would take for me to get to the Nihtinaht Narrows ferry, he answered: "At the speed you're going, probably about an hour, which will put you there right when they start operating."
'Convenient,' I thought to myself. Maybe I wouldn't have to wait too long and can afford to enjoy a sit-down meal at the Crab Shack on the other side. I said my goodbye and put in a little extra juice as I hiked on, wanting to prove their prediction correct. Hiking along the cliffs near the ocean afforded me yet more gorgeous views of the sea, but I was focused. I was pretty stoked to get to the Crab Shack and enjoy a cooked meal.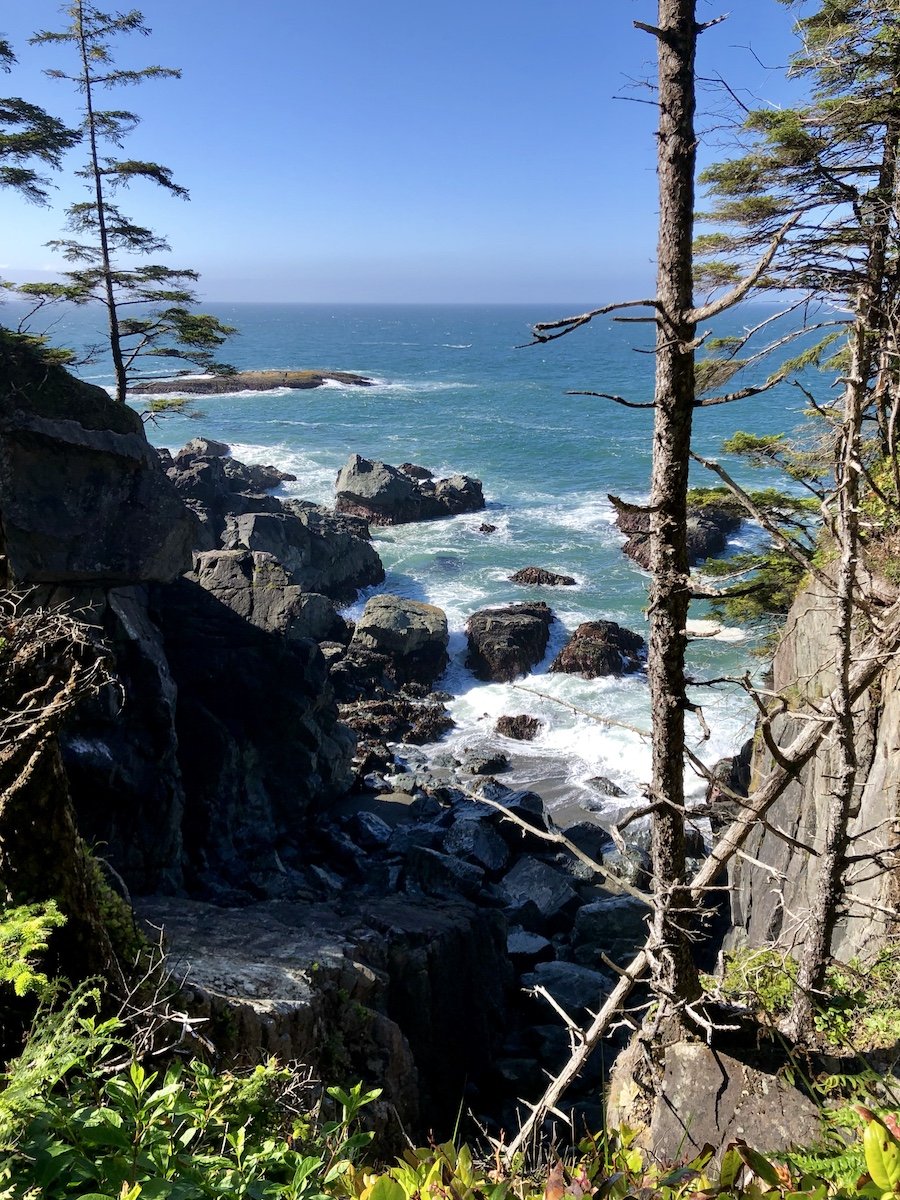 Crossing Nitinaht Narrows
As it turned out, it was. I still had to wait though. I rested in the sun on the dock appreciating the river's pristine blue waters. After about a half-hour, Doug, the ferryman, pulled up. It only takes a couple of minutes to cross, but the ferry is still necessary. I showed him my trail pass and off we went.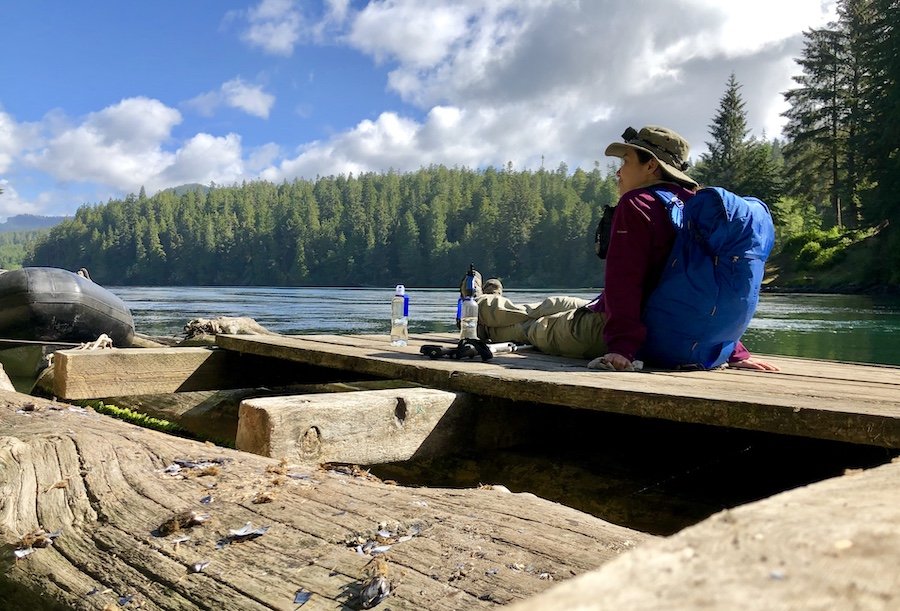 When we arrived, I talked about how excited I was to have a breakfast burrito (recommended to me by the trail guardian), but Doug let me know that the cook was going to be late because her daughter had been in a car accident. I was pretty disappointed, not getting to have a mid-trail meal cooked for me, so I asked if he had any idea how much longer it would be. He hadn't a clue, but offered to make me one of the seafood options if I wanted, either crab, grilled salmon, or grilled halibut with a baked potato, and the option to make it "fully loaded" with all the fixings. I was tempted by the salmon.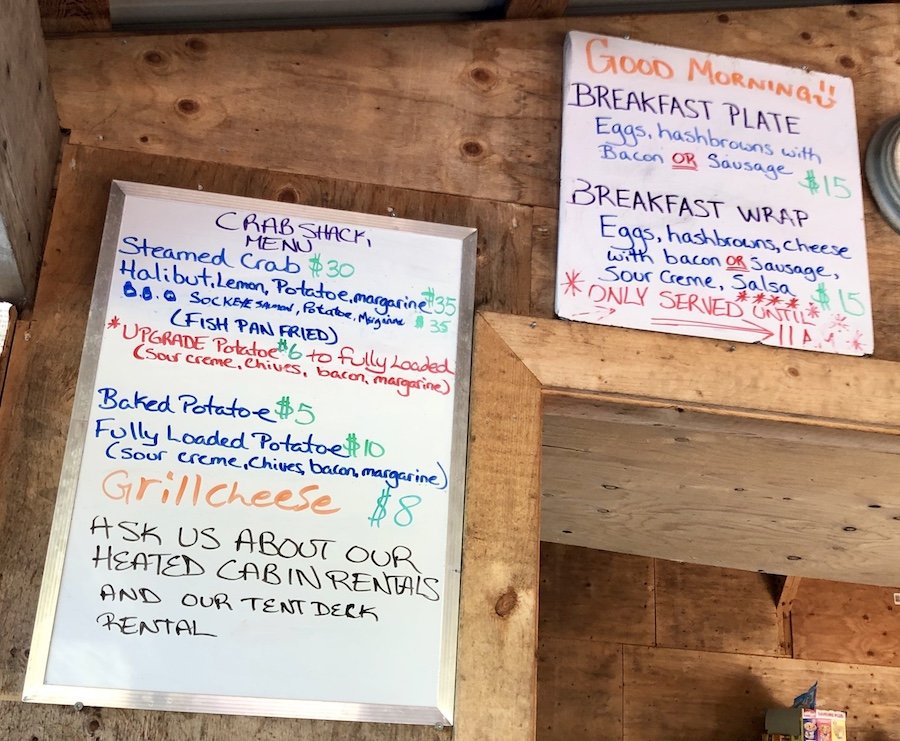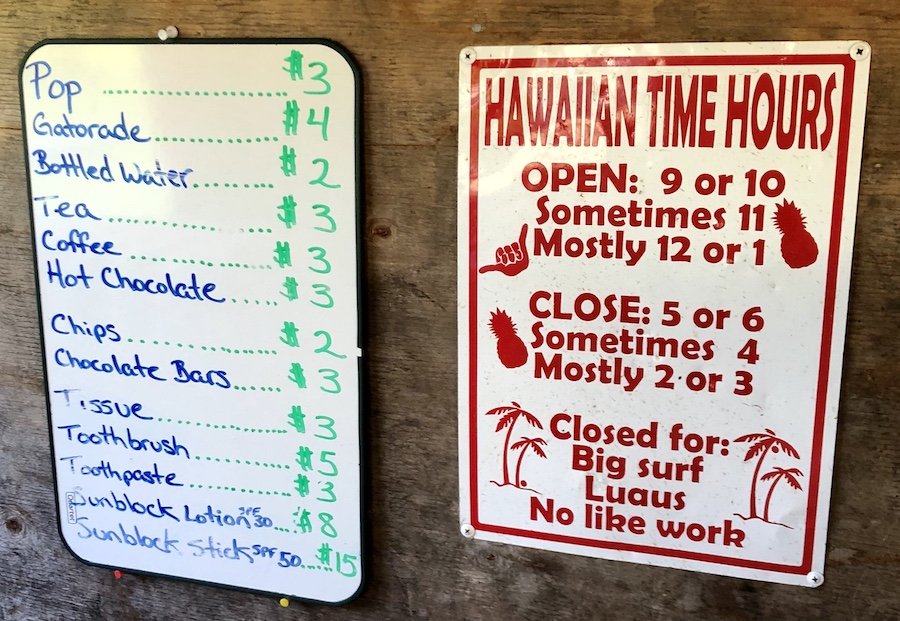 "You wont' have a fresher piece of salmon than this. I literally caught it this morning," Doug informed me, sweetening the deal. Twist my rubber arm. I was surprised by how many things they had on the menu, as well as candy bars, banana bread, even ice cold beer. Of course, it's all a little marked up, but can you really put a price on a hot meal on the trail out of the elements? It's still cheaper than what you would pay at a fancy sit-down restaurant, so it's a no-brainer in my mind, even if it does cost you a bit of hiking time.
While I waited, Doug showed me the shack's photo album, with pics going back several decades, including ones of him as a child. He was adopted by the family that ran the place, and he grew up with his First Nations family, living close to nature, fishing and serving people on the West Coast Trail.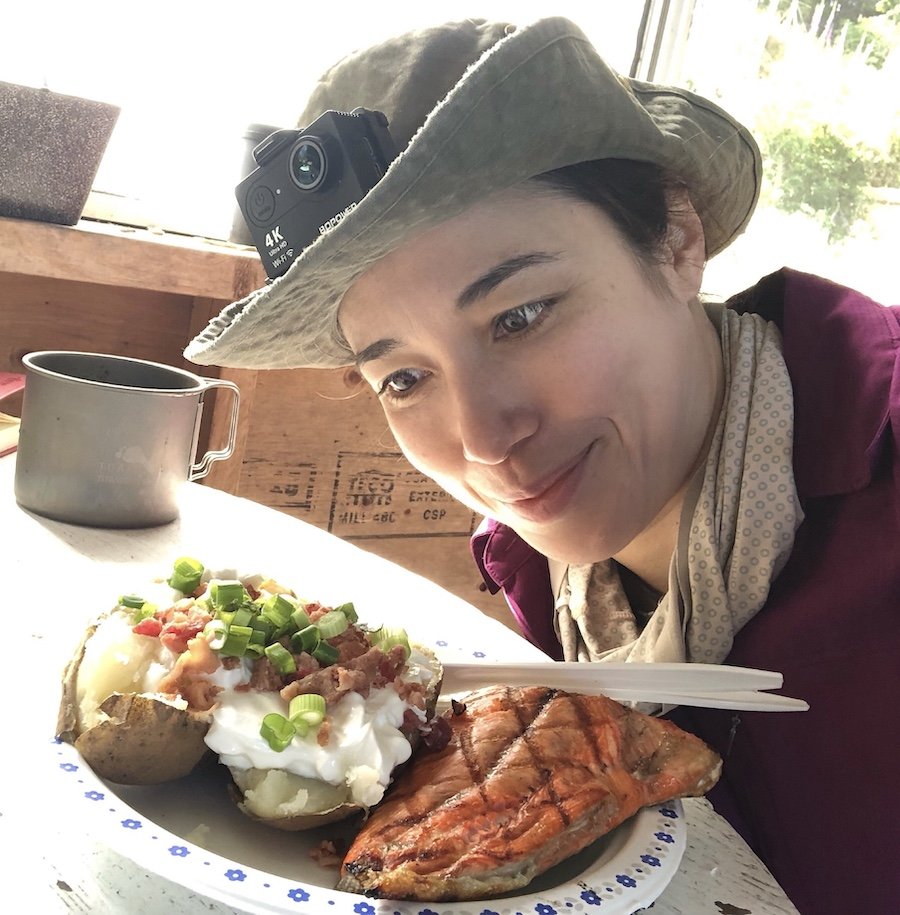 As he finished grilling my salmon, the cook arrived in a harried state. I chatted with her, to help her take the edge off. She was clearly upset, but talking about it seemed to ease her tensions. Her daughter was okay and so was everyone was going to be fine. The owner arrived at the same time and he wish me good morning warmly, asking me my name, and how I was enjoying the trail. He seemed genuinely interested in hearing my story and clearly loved what they did in the well-loved, ramshackle Crab Shack. The owner made a point of using my name in conversation, and again when we said goodbye, little touches that I appreciated being a hiker on my own. Little connections like that kept me from feeling lonely even though I was hiking alone on the trail.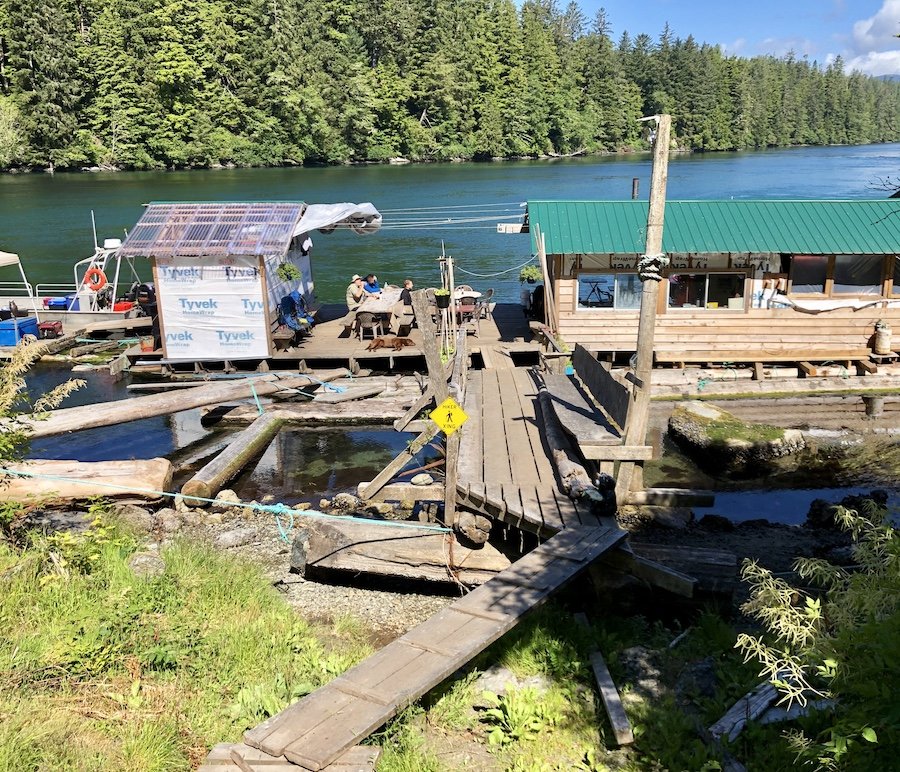 In my next blog post, Coastal Hiking Bliss: Solo Backpacking the West Coast Trail in 71 Hours - Part 2, I'll continue the story of my experience.