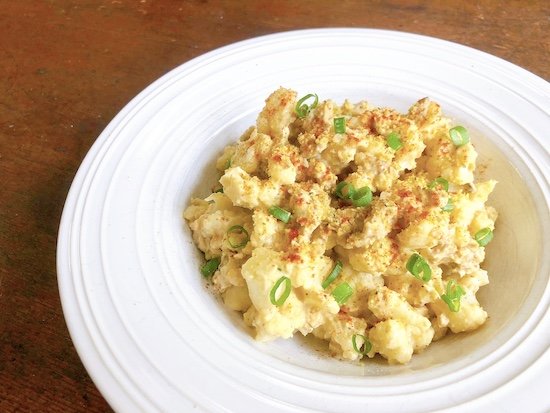 Sometimes I want the creamy blend of flavours and textures of an old school mac and cheese, but without all dairy, having a sensitivity to dairy. I figured, while I was at it, why not sub out the meat with smoky bacon flavoured tempeh to make it completely vegan? I was quite happy with the results with this low-carb, dairy-free, vegan keto cauliflower faux mac and cheese recipe.
Vegan Keto Dairy-Free Cauliflower Faux Mac and Cheese with Tempeh Bacon Recipe
Ingredients:
Directions:
Cut cauliflower into equal, bite size pieces. Bring about ¼ inch of water to a boil in a large skillet. Add ¼ teaspoon kosher sea salt and cauliflower florets. Turn heat down to medium-high, cover and cook for about 6-8 minutes, stirring occasionally, until fork tender (not falling apart).

Remove all but 1 cup of the cauliflower using a slotted spoon. Set aside to drain in a colander. Cook remaining cauliflower for another 3 or so minutes, until very soft, and falling apart. Add more water if the water in the pan dries out too quickly.

Add the soft cooked cauliflower to a blender or food processor along with soaked cashews, nutritional yeast, lemon juice, mustard, garlic powder, turmeric and sea salt along with ⅓ cup of hot water. Blend on high until smooth, adding more hot water only if needed. You want a it to be pourable, but thick.

Dry out the skillet then heat to medium with vegan butter. Add drained cauliflower florets back to the pan along tempeh bacon and ¼ tsp salt and black pepper. Stir to coat.

Pour sauce over cauliflower, toss gently with a spatula to coat. Taste and season with more salt if needed. Top with a black pepper, paprika and fresh chives, then drizzle on a little truffle oil (if desired). Serve hot, but can be made ahead and easily re-heated.
Did you make this vegan keto dairy-free cauliflower faux mac and cheese recipe? If so, please let me know how it turned out in the comments. Or if you share pics of your creations on Instagram, please tag me so I can see them. Enjoy! :)