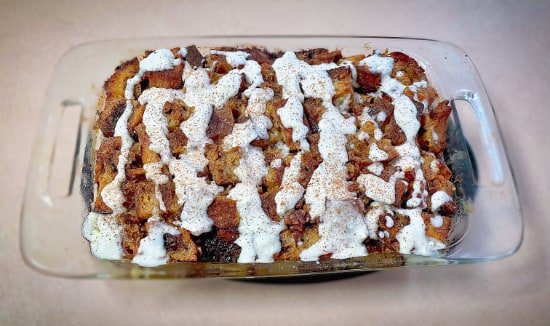 I decided that this would be a fun thematic concept for a dish for our New Year celebration. Using up leftover frozen pieces of keto bread from unfinished loaves from 2021, I was able to scrape together enough pieces to make a keto French toast casserole. What better way to symbolically say goodbye to 2021 and create space for the bounty of 2022!
Keto French Toast Casserole
Casserole Ingredients:
Butter Topping Ingredients:
Optional Cream Cheese Drizzle Ingredients:
Other Optional Garnish Toppings:
Directions:
Preheat the oven to 375F (190C) with oven rack in the center position. Lightly grease a 2-quart (if you want thicker slices) or 3-quart baking dish (if you want thinner slices) with cooking spray or butter. Add enough bread cubes to cover the bottom. Sprinkle a few tablespoons of pecans on top. Continue layering the bread chunks and pecans.

In a 4-cup measuring liquid cup, whisk the eggs together. Add the milk, cream, sweetener, ½ teaspoon cinnamon, salt, and orange zest (if using)and mix well. Pour the egg and milk mixture evenly over all the bread chunks. At this point, the casserole can be baked right away, or covered and refrigerated overnight.

In a 1-cup liquid measuring cup, whisk together the butter topping ingredients. Using a spoon, drizzle the mixture evenly over all the bread chunks. Bake the casserole for 35-45 minutes. Leave the casserole in the oven longer if you want the chunks of bread on the top to be more brown and crunchier.

Remove the casserole from the oven and allow to cool for about 10 minutes. Whisk together the cream cheese drizzle and spoon over the casserole. Dust with Confectioner's Swerve if using. Serve with maple syrup and/or keto chia jam on the table.
Did you make this keto French toast casserole recipe? Please let me know how it turned out in the comments. Or if you share pics of your creations on Instagram, please tag me so I can see them. Enjoy! :)