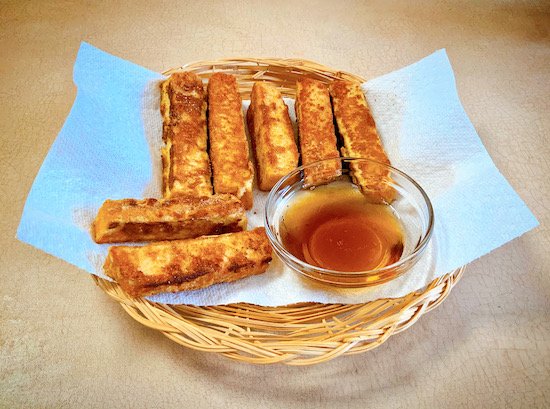 Looking for a tasty snack for the munchies? Add several dipping bowls of sugar-free, keto-friendly dessert sauces, and these French toast sticks give you have a fun, easy, snack that can be pre-made and heated up in a toaster oven for last-minute snacking.
Keto French Toast Sticks Recipe
Ingredients:
Directions:
In a large flat container, whisk together eggs, heavy cream, vanilla and salt.

Add the bread sticks to the mixture, turning them to make sure they're all well coated.

Set a non-stick frying pan to medium-low heat. Once fully heated, melt the butter on the pan and add half the bread sticks. Cook on the first side 2-3 minutes or until golden brown then flip them. Repeat the process until all sides are golden. The remaining sides will take less time than the first side. Repeat with the second batch of sticks.

Combine the Swerve and ¼ teaspoon of cinnamon and sprinkle over all sides of the French toast sticks. Serve with keto chia jam, sugar-free chocolate sauce or keto-friendly maple syrup.
Did you make these keto French toast sticks? If so, please let me know how it goes in the comments. Or if you share pics of your creations on Instagram, please tag me so I can see them. Enjoy! :)