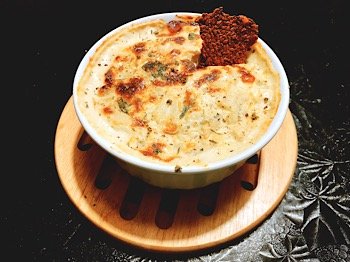 While I was staying at my parents' house over the holidays, I rummaged through my parents' fridge and cupboard for ingredients to make a spinach and artichoke dip, one of the most well-loved keto dip recipes. I was able to find everything I needed... except for the artichokes, which is kind of a key ingredient. I did, however, find a can of hearts of palm. Now I knew that hearts and palm pair well with butter and Parmesan, having had it in a creamy risotto recipe in the past, and it also has a similar colour and texture, so I decided to give it a shot. And it worked like a dream.
One of the other benefits of hearts of palm over artichokes is that it is higher in natural fat and protein than artichokes. See for yourself. Here is the macro break-down for 130g of both canned artichokes versus hearts of palm:
Artichokes:
27g carbs
0g fat
8g protein
Hearts of Palm:
21.6 carbs
6.8g fat
8g protein
They're roughly the same price, so why not use the one that has more fat to make this classic recipe more lower carb?
Keto Hearts of Palm Spinach Dip Recipe
Ingredients:
Directions:
Preheat oven to 375 degrees F (190 degrees C). In a medium mixing bowl, mix all ingredients together until well-blended. Put the mixture in a baking dish and put it in the oven.

Bake until heated through and bubbly, about 25 minutes. Garnish with parsley. Serve cut veggies or flax crackers. Makes approximately 2 cups.