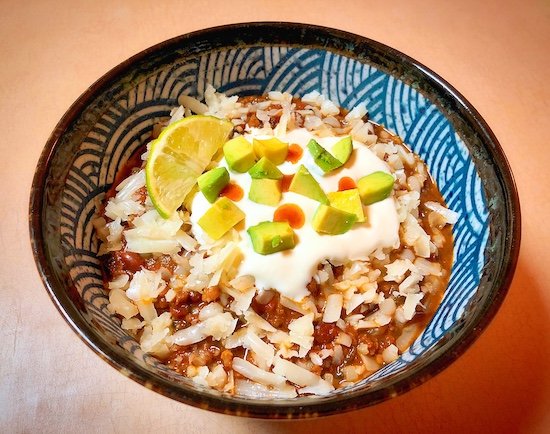 In my desire to create a vegan keto chili that is as flavourful as my grocery cart chicken chili, but with a different style of seasoning to make its uniquely vegan characteristics stand out. I achieved this by using cocoa powder, coffee, and ground cinnamon. I also used red miso paste and nutritional yeast to add saltiness, along with the ingredients' inherent nutritional properties.
Ingredients:
3 tablespoons avocado oil
¾ cup yellow onions, chopped
3 cloves garlic, minced
½ teaspoon salt
2 cups cauliflower florets
1 cup mushrooms, diced
2 cups black kale, chopped
1 batch of hemp mushroom burger, unshaped and uncooked (*Or use 1 package of St Yves ground round if preferred.)
2 chipotle peppers in adobo sauce, finely chopped, chopped (*Add sauce to taste for extra heat.)
2 tablespoons mild chili powder
1 can 28 oz can of diced tomatoes, diced, undrained
1 teaspoon dried oregano
1 teaspoon ground cumin
One 14 oz can of black soy beans, drained and rinsed
salt and pepper (to taste)
1 teaspoon Swerve Brown (*Or Swerve granulated if brown is unavailable.)
½ teaspoon ground coriander
2 teaspoons red or dark cocoa powder
½ teaspoon espresso powder, Turkish coffee powder (*my favourite), or instant coffee
½ teaspoon ground cinnamon
¼ teaspoon smoked paprika
2 teaspoons nutritional yeast
1 tablespoon red miso paste
1 tablespoon - 2 teaspoons vegan Worcestershire sauce(*or use regular Worcestershire if not vegan)
1 tablespoon lime juice
2 tablespoons https://amzn.to/2XVJIvx
½ cup vegetable broth(*Or bone broth if not vegetarian if not strictly vegetarian)
Directions:
Steam kale in 1 cup of water for 5-7 minutes. Drain water and set aside. (*Steaming the kale before use removes unhealthy oxilates.)
2 Set Instant Pot to 'Sauté.' Once hot, add oil, onions, garlic and ½ teaspoon salt. Cook until onion is translucent.
Add tomato paste, chipotle peppers, chili powder, oregano, cumin, coriander, cocoa powder, Espresso powder, and cinnamon then cook another 1-2 minutes until fragrant.

Stir in hemp mushroom burger dough breaking it up into small pieces as it cooks.
Once browned, add broth, tomatoes, cauliflower, mushrooms, beans, Swerve, lime juice, and Worcestershire sauce. Stir in well, ensuring that any bits that got stuck to the bottom of the pot are scraped free and mixed well throughout the chili.

Close the Instant Pot set in the 'sealing' position. Set to high pressure for 18 minutes.

When finished cooking, quick-release pressure according to manufacturer's directions. Take out a small scoop of sauce from the chili and stir in to red miso paste in a small bowl then stir it all back into the pot. Stir in cilantro; season with salt and pepper, to taste.

Serve immediately, garnished with vegan sour cream or your own homemade creme fraiche or sour cream (if not vegan), avocado, fresh cilantro and whatever kind of cheese you prefer, vegan, Mexican, etc, if desired.
Did you make this vetan keto meatless chili recipe? If so, please let me know how it goes in the comments. Or if you share pics of your creations on Instagram, please tag me so I can see them. Enjoy! :)