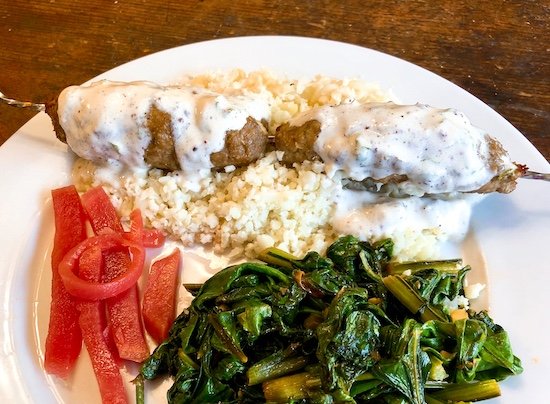 Tired of burgers being the go-to option for barbecuing ground meat? This extremely flavourful, highly adaptable middle eastern kofta kabobs recipe is a great change from the usual. I was inspired to make my own recipe for it after having had one of my neighbours bring it for a BBQ I was hosting. It can be made keto-friendly using higer fat, lower carb options, or you can make it low-fat for a carb-up. Or even do both if serving to a crowd with a variety of different nutritional plans.
Middle Eastern Kofta Kabobs Recipe
Ingredients:
Directions:
Soak 10 wooden skewers in water for 1 hour. Remove from water when you are ready to begin. If using a BBQ, lightly oil the grates or add a BBQ mat over your grill and preheat it to medium-high for about 20 minutes. If using an oven, preheat the oven to 375F.

In a food processor, chop the onion, garlic, and parsley. You can also use a high-powered blender and pulse until consistent.

Squeeze out all the water of your ground meat and add to food processor or blender along with your choice of flour and all the spices. Run the processor until all is well combined forming a pasty meat mixture. If using a blender, pulse it for a few seconds, the push it down with a silicon spatula. Repeat until you get a pasty meat mixture.

Remove the meat mixture from the food processor and place in a large bowl. Take a fistful portion of the meat mixture and mold it on a wooden skewer. Repeat the process until you have run out of meat. For best results, make sure each kofta kebab is about 1" thick. Lay the skewered kofta kebabs on a tray lined with parchment paper or a silicon mat

Place the kofta kebabs on the lightly oiled or mat-lined, pre-heated gas grill. Grill on medium-high heat for 4 minutes on one side, turn over and grill for another 3-4 minutes. If using an oven, spray a baking rack and add to a baking sheet. Place the kofta kabobs on the baking rack, leaving space between them. Roast for 30-40 minutes, turning them over once, halfway through. Ground lamb or beef should be at an internal temperature of 160F and ground turkey should reach 165F.

Serve the kofta kebabs immediately with sumac yogurt sauce or garlic tahini sauce over cauliflower rice or keto pita bread with a side of middle eastern pickled turnip and a middle eastern cucumber salad.
Did you make this middle eastern keto kofta kabobs recipe? If so, please let me know how it turned out in the comments. Or if you share pics of your creations on Instagram, please tag me so I can see them. Enjoy! :)