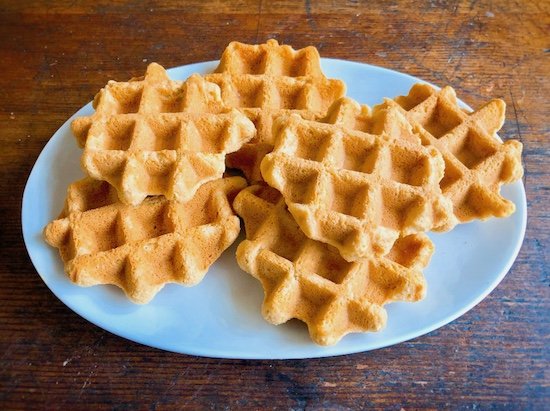 We all saw the chaffle craze, a simple carb-free way to make waffles using cheese and egg, but what do you do if you're sensitive to dairy? There are plenty of keto waffle recipes, but they usually involve a base of almond flour, and many people are sensitive to almonds. I am sensitive to both cow's dairy and almonds, so I set about coming up with a keto waffle recipe that had neither. Eggs aren't awesome for me either, but this recipe only has one to make 6 small waffles or pancakes, where as many recipes have 2 or more, often making them taste a little too "eggy." The taste and texture of these waffles is on point, making it a great recipe for your next brunch.
Keto Nut-Free, Dairy-Free Waffles/Pancakes
Ingredients:
Directions:
In a small bowl, combine non-dairy milk and apple cider vinegar then whisk in the ground flax. Allow to rest until thickened and gelled, around 5 minutes.

Preheat waffle iron according to manufacturer's directions. In a medium mixing bowl, whisk together coconut flour, oat fiber, glucomannan and baking powder. Whisk or stir to combine well.

Add the milk-flax mixture, egg, and avocado oil to the dry ingredients. Stir just until batter is smooth and no more.

Using a ¼ cup scoop (or size recommended by waffle iron manufacturer), pour batter into the preheated waffle iron (or for pancakes, pour onto a preheated griddle) and cook until golden brown, flipping once for pancakes.

Top with butter and keto maple syrup, keto chunky berry dessert topping, peanut butter dessert sauce, chocolate syrup or any other toppings desired. Serve hot or once cooled, add to a freezer bag with parchment paper between each waffle and freeze for up to 3 months.
Did you make vegan keto nut-free dairy-free waffles/pancakes recipe? If so, please let me know how it turned out in the comments. Or if you share pics of your creations on Instagram, please tag me so I can see them. Enjoy! :)