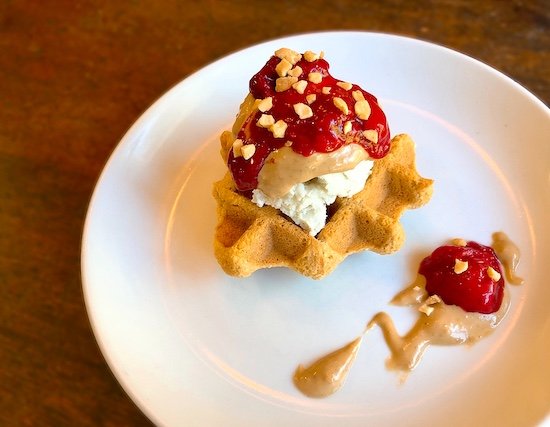 Peanut butter works well in so many different kinds of desserts, but sometimes you just want it a little thinner so it can be drizzled. A touch of extra sweetness from the Swerve Brown makes it taste a little more like the inside of a peanut butter cup. Pair it with a chunky berry dessert sauce to make a PB&J dessert (as shown in the photo) or pair it with a keto chocolate syrup for a chocolate peanut butter dessert. Perfect on ice cream, waffles, cheesecake, yogurt or anything else your heart desires!
Keto Peanut Butter Dessert Sauce Recipe
Ingredients:
Directions:
Stir together all ingredients in microwaveable bowl. Microwave on medium 1-2 minutes or until sweetneer is dissolved and mixture is well blended, stirring every 45 seconds. Cover. Refrigerate at least 30 min. before serving. Serve over keto ice cream, keto waffles, chaffles or high-fat yogurt.
Did you make this keto peanut butter dessert sauce recipe? If so, please let me know how it turned out in the comments. Or if you share pics of your creations on Instagram, please tag me so I can see them. Enjoy!