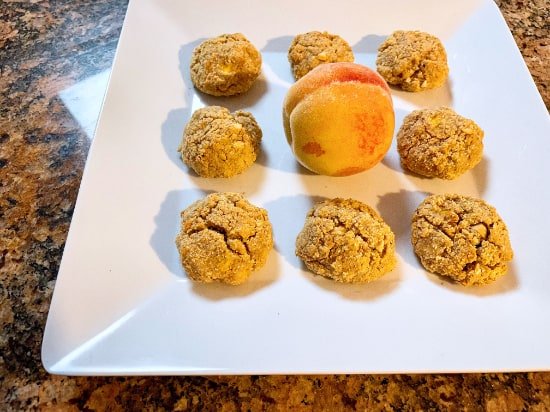 It's summer, which means peaches are in season. I was jonesing for a low-carb peach dessert, so I came up with these peach cobbler cookies. The cookie format makes them easier to transport and share, making it a great choice for BBQs. While peach isn't the lowest carb fruits out there, if you use it sparingly in a recipe, like I did in this one, you can still get the peachy taste without breaking the bank on your carb count. Now doesn't that sound just peachy?
Keto Peach Cobbler Cookies Recipe
Ingredients:
Directions:
Preheat oven to 350F. In a medium, light-coloured sauce pan, heat the butter over medium high heat. The butter will start to foam and pop, make sure to stand by it and stir every 30 seconds or so, for about 5-6 minutes. When the butter turns dark amber in colour and starts to smell nutty, remove the pan and pour into a large mixing bowl and allow to cool. (*If using vegan butter, you can just microwave it until softened as it won't brown the way butter does.)

Once the butter has solidified to soft solid consistency, cream butter and sweeteners together until light and fluffy, 5-7 minutes. Beat in yogurt, cider vinegar and extracts.

In another bowl, whisk together all the dry ingredients; gradually beat into creamed mixture. Stir in the peaches and chopped nuts.

Measure out each cookie with a tablespoon and shape into a fat disc. Place them 2" apart onto silpat or parchment-lined baking sheets. Bake until set, 14-16 minutes. Remove from oven and place on a cooling rack and allow to cool completely. Store in an airtight container at room temperature for up to one week or in the freezer for up to 3 months.
Did you make this sugar-free keto peach cobbler cookies recipe? Please let me know how it turned out in the comments. Or if you share pics of your creations on Instagram, please tag me so I can see them. Enjoy! :)