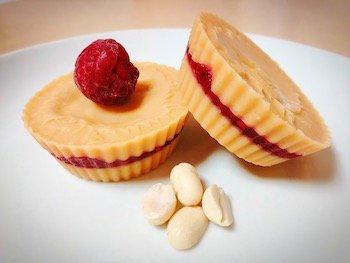 This peanut butter and jelly fat bomb gives you everything you enjoyed about PB&J sandwiches as a child but packaged in a fat bomb format for your keto diet needs. I love the layered look and the way the melt in your mouth. They are divine creations and perfect for a mid-afternoon snack on the go#.
Peanut Butter & Jelly Fat Bombs Recipe
Ingredients:
Instructions:
In a medium saucepan over medium heat, combine the raspberries and water. Bring to a boil and the reduce the heat and simmer 5 minutes. Mash the berries with a fork.

Stir in 1 tablespoon of the erithrytol and 10 drops liquid stevia. Whisk in the gelatin and let cool while preparing the peanut butter mixture.

In a microwave safe bowl, combine the peanut butter, salt and coconut oil. Cook on high for 30 to 60 seconds, until melted.

Whisk in remaining tablespoon of erithrytol and 5 drops liquid stevia. Divide half of the peanut butter mixture among 12 silicon muffin liners arranged on a tray and set in the freezer to firm up, about 15 minutes.

Divide the raspberry mixture among the muffin liners and top with the remaining peanut butter mixture. Refrigerate until firm. Keep refrigerated or store in the freezer in a freezer bag.
What other ways have you found to bring the joys of peanut butter and jelly sandwiches back on the table for your keto diet? Please share, or if you end up making this recipe, let me know how it goes in the comments. Or if you make it and share pics on Instagram, please tag me so I can see your creations. :)
If you're really in to keto fat bombs, check out some of my other recipes:
Lemon cheesecake fat bombs Chocolate nut butter fat bombs Maple bacon fat bombs