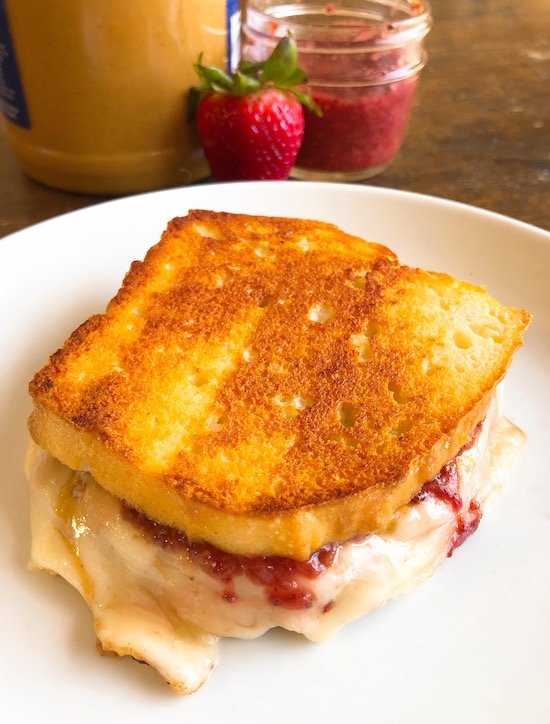 Take three well-loved comfort foods, peanut butter & jelly sandwiches, grilled cheese, and baked brie, put them altogether and you get this crazy delicious mash-up! And of course, this one is made with all keto-friendly, low-carb components so you can just sit back and enjoy this upscale PB&J masterpiece. A great solution for the munchies or an easy yet fancy Mother's day brunch. :)
Keto Peanut Butter & Jelly Grilles Cheese Sandwich Recipe
Ingredients:
Directions:
Start by spreading the peanut butter on one side of the bread, then the jelly on the other. Top the jelly side with sliced brie, edge to edge.

Melt half the butter in a skillet over medium-low heat, and add the jelly and brie slice of bread to the skillet, jelly and brie side up. Then place the peanut butter slice on top of the jelly/brie slice, with the peanut butter side down.

Once the one side is grilled to a medium brown, remove the sandwich, add the remaining butter and flip the sandwich to grill the other side until brown. Serve hot and melty for best results.
Did you go for it? Did you make one of this peanut butter and jelly grilled cheese sandwiches? I understand that sharp white cheddar can also work well, so it might be worth experimenting with different kinds of cheese and jams. Whatever combination you go with, please let me know how it goes in the comments. Or if you share pics of your creations on Instagram, please tag me so I can see them. Enjoy! :)