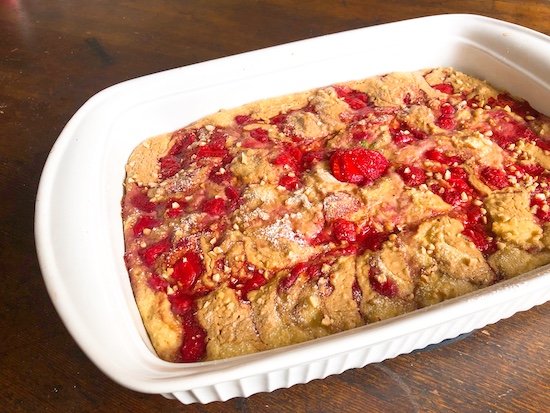 Looking for a fun brunch/breakfast idea that's easy and serves a bunch of people without having to stand at the stove? Lose the griddle or waffle-maker and try this vegan keto peanut butter and jam pancake casserole recipe! It's a favourite with kids, but adults also like the PB&J nostalgia. It also works great as a healthy dessert!
Vegan Keto Peanut Butter and Jam Pancake Casserole Recipe
Ingredients:
Directions:
Preheat oven to 325F. Spray a 11x13" casserole dish with cooking spray. Prepare pancake batter as per above link's recipe, adding erithrytol into the dry ingredients and peanut butter, MCT or avocado oil, vanilla and liquid stevia into the wet ingredients, using an electric mixer to beat together the wet ingredients.

Pour batter into prepared casserole dish. Spread jam into rows on top of the batter then use a knife to cut into the jam to swirl it into the batter slightly. Sprinkle with chopped peanuts and bake for 10-15 minutes or until a tooth comes clean when inserted. Sprinkle with Confectioner's Swerve and top with whipped coconut cream, and/or a fresh sliced strawberry for garnish if desired. Serve warm.
Did you make this vegan keto peanut butter and jam pancake casserole recipe? If so, please let me know how it turned out in the comments. Or if you share pics of your creations on Instagram, please tag me so I can see them. Enjoy! :)