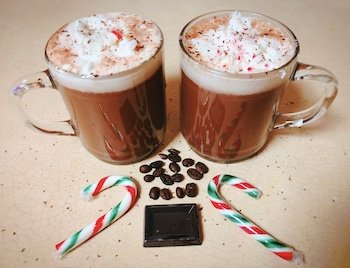 A bit of cocoa. A bit of coffee. A bit of cream. Oh and crushed sugar-free peppermint candy! Throw in some vodka and you possibly have all the tastiest things in one hot, festive drink. I give you my ketofied peppermint mocha recipe! I've included a "bulletproof" version if you needs the extra fats too, depending on what you have in store for your holiday eating.
Keto Peppermint Mocha Recipe
Directions:
Added Ingredients to Make It "Bulletproof":
Garnish Ingredients (Optional but recommended!):
Directions:
In a medium small pot, whisk together all the ingredients except peppermint extract and vodka (if using) and garnishes on the stove set to medium. (*If making it a "bulletproof" drink, add MCT oil and collagen at this point too.)

Warm the mixture to your desired temperature, turn off the heat, add the peppermint extract, and mix again.
Pour into a glass, top with keto whipped cream, chocolate shavings and crushed peppermint candies and serve!
I feel like you can do this recipe with different spirits than vodka. What sugar-free options will you try it with? Please let me know how it goes in the comments if you try this recipe and if you try any variations. I'm always game to try different things. Or if you post your creation on Instagram, tag me so I can see it. :)