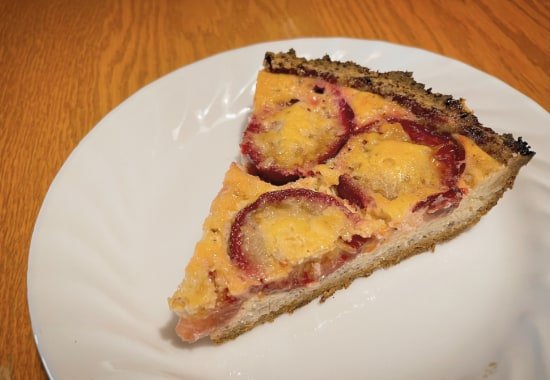 While plums aren't super low-carb fruits, you can easily balance out the carbs by having a smaller slice and top it with keto ice cream or whipped cream. And when you have a whole container of plums to get through it's nice to be able to use up a whack of them in a pie like this keto-friendly plum pie recipe. Cardamom and brandy extract are both highlight flavours, giving this recipe a different kick.
Keto Plum Pie Recipe
Ingredients:
Directions:
In a medium, light-coloured sauce pan, heat the butter over medium-high heat. The butter will start to foam and pop, make sure to stand by it and stir every 30 seconds or so, for about 5-6 minutes. When the butter turns dark amber in colour and starts to smell nutty, remove the pan and pour into a medium mixing bowl and allow to cool until hardened to a soft consistency.

Sprinkle the ground nuts/course flour evenly over the crust. Add the fruit, filling up the pan.

Cream together powdered sweetener with the browned butter until well combined. Add the yogurt, extracts, eggs, lemon zest, and spices and continue to blend until until fully incorporated.

Pour the egg mixture over the fruit all around the pie plate. Bake in preheated oven about 40-45 minutes or until custard is set, wrapping the crust with foil after 20 to prevent it from over-browning. Allow to cool completely before cutting and serve topped with [keto vanilla ice cream](keto scoopable vanilla ice cream or keto whipped cream.
Did you make this keto plum cardamom pie recipe? Please let me know how it turned out in the comments. Or if you share pics of your creations on Instagram, please tag me so I can see them. Enjoy! :)