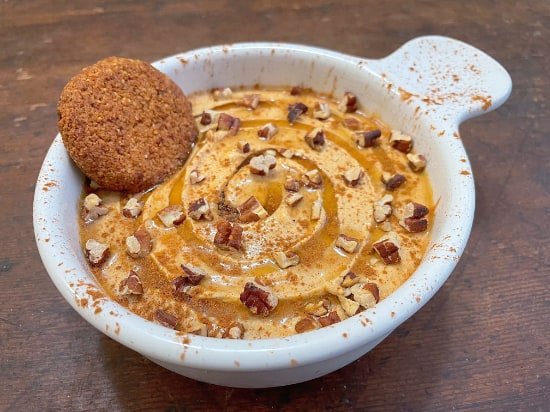 Does one really need to have more than one pumpkin spice sweet dip in their repertoire? Hell, yes! I devised this recipe to be keto, but flexible enough to use it for a carb-up with a couple of minor swaps. My other pumpkin spice sweet dip is based around coconut cream so it can really only be a keto dip. This one, on the other hand, uses tofu as the base, so all you have to do is swap out the added fat for more carbs (i.e. more pumpkin) and you're good to go!
Vegan Keto/Carb-Up Pumpkin Spice Tofu Sweet Dip Recipe
Ingredients:
Directions:
Add 3 tablespoons non-dairy milk to the blender, along with all the other liquid ingredients. Follow up with the tofu and pumpkin puree, then all the remaining ingredients, except the garnish.

Blend until smooth, adding 1-2 tablespoons of additional non-dairy milk if necessary to reach desired consistency.

Top with an extra drizzle of maple syrup, a sprinkle of cinnamon, and toasted pecans (if using). Serve with your choice of cut fruit, keto ginger snaps or keto graham crackers.
Did you make this vegan keto/carb-up pumpkin spice tofu sweet dip recipe? If so, please let me know how it turned out in the comments. Or if you share pics of your creations on Instagram, please tag me so I can see them. Enjoy!