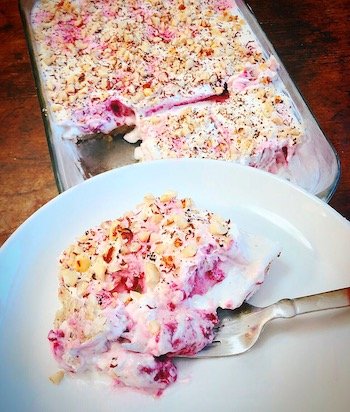 I've been really enjoying making these keto lush desserts, so I decided to do another today, this time a raspberry white chocolate hazelnut lush. It starts with a hazelnut butter cookie base, then the standard cream cheese layer spiked with a touch of tequila, then we add the white chocolate pudding layer, which is then topped with a raspberry lemon layer. We finish with the whipped cream layer, which is topped with a sprinkle finely ground Costa Rican coffee (Costa Rican because it pairs best with white chocolate), chopped roast hazelnuts and a dusting of chocolate shavings.
I carefully chose all these flavours to engineer the most complementary layers in this lush, beginning with the white chocolate pudding mix, which I had on hand. The trick is finding flavours that not only pair with the first ingredient, but also with each other. Raspberry, white chocolate, hazelnut all pair well with each other, but so does the secondary ingredients, including the coffee, tequila and lemon, making the the interplay of all the flavours and textures in this dessert truly delightful.
Raspberry White Chocolate Hazelnut Lush Recipe
Hazelnut Butter Cookie Ingredients:
Other Layer Ingredients:
1 teaspoon gelatin powder
2 tablespoon warm water
4 oz. cream cheese, softened
½ tablespoon white tequila (*optional, but adds another layer of depth)
3 tablespoons erithrytol, powdered in a spice/coffee grinder
¼ teaspoon liquid stevia, vanilla-flavoured
1 cup keto whipped cream, divided (¼ cup, ¼ cup, ½ cup)
1½ cups unsweetened almond milk
2 cups raspberries (if using frozen, make sure they're fully thawed)
2 teaspoons erithrytol, powdered in a spice/coffee grinder
1½ teaspoons lemon juice (fresh is best)
10 drops liquid stevia
¼ cup roasted hazelnuts, chopped
¼ teaspoon Costa Rican coffee, finely ground (*I used a Hazelnut Vanilla blend.)
1-2 teaspoons shape-as-you-like-chocolate or any sugar-free keto-friendly chocolate like Lily's Dark Chocolate, shaped into chocolate shavings (optional)
Directions:
First make the hazelnut cookie base. Preheat oven to 350F. First, add the raw hazelnuts to a high-powered blender (*I use a Blend Tec) and pulse until you get a flour consistency. It's okay if there are a few larger but pieces as this gives the cookie base a bit of crunch.

In a large mixing bowl, whisk together all the dry ingredients. In a small bowl, mix together all the wet ingredients until well combined.

Add the wet ingredients to the dry ingredients, blending with a hand mixer until combined. It should be crumbly.

Press the cookie dough into a 2-quart casserole dish that's been sprayed with cooking spray. Bake for 15-20 minutes in preheated oven or until the cookie base is lightly browned on top. Remove from oven and allow to cool completely before starting the next step.

In a small mixing bowl, stir together warm water and powdered gelatin with a fork. Set aside and allow to bloom.

In a medium mixing bowl, using an electric mixer, beat together cream cheese, tequila, and 3 tablespoons powdered erithrytol. Fold in ¼ cup whipped cream until fully incorporated. Spread evenly over cooled crust.

Stir together pudding mix and almond milk. Fold in ¼ cup whipped cream until fully incorporated. Spread evenly over cream cheese layer in pan.

Toss raspberries with powdered eritrytol, lemon juice, 10 drops liquid stevia and gelatin mix. Spread evenly over pudding layer. (*Note: If there are chunks of solid gelatin try to break this up before adding to the mix. If they're a bit too solid, try zapping it in the microwave for a few seconds at a time then try to break them up.)

Top raspberry layer with remaining whipped cream and sprinkle coffee overtop. Refrigerate 4 hours or overnight. Top with chopped hazelnuts and chocolate shavings (if desired) before serving.
Have you ever tried making a lush dessert before? What did you think of this keto raspberry white chocolate hazelnut lush? Please share your thoughts in the comments. Or if you share pics on Instagram, tag me so I can see your creation. Enjoy!