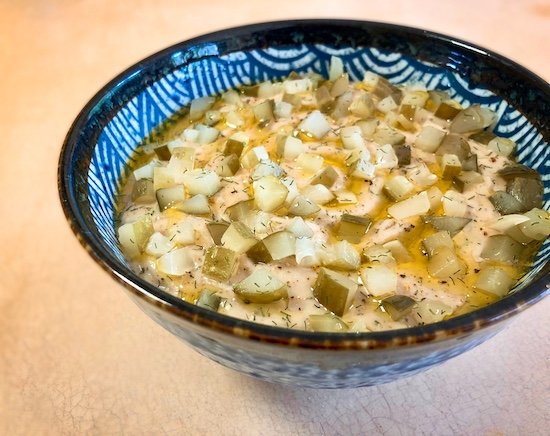 Roast eggplant is a great, smooth and creamy base for dips when avoiding dairy. This vegan keto roast eggplant dill pickle dip is reminiscent of the cream cheese version I used to make, but entirely plant-based and way less heavy.
Vegan Keto Roast Eggplant Dill Pickle Dip Recipe
Ingredients:
Directions:
Preheat oven to 425F. Line a baking sheet with a silicon baking mat. Halve the eggplant lengthwise then transfer to baking sheet cut side up. Prick the flesh with a knife all over the skin. Drizzle each half with a teaspoon of avocado oil, rubbing it all over the flesh. Roast for 40 minutes or until flesh is very soft.

When eggplant is cool enough to handle, turn cut side up and scoop flesh into a blender. Add olive oil, garlic clove, coconut cream, pickle juice, and dill. Pulse until smooth.

Pour into a bowl and stir in chopped pickles. Season with salt and pepper to taste. Garnish with a drizzle of olive oil, a few extra chopped pickles and more dill if desired. Serve with keto crackers, keto bread, or cut veggies.
Did you make this vegan keto roast eggplant dill pickle dip? If so, please let me know how it goes in the comments. Or if you share pics of your creations on Instagram, please tag me so I can see them. Enjoy! :)