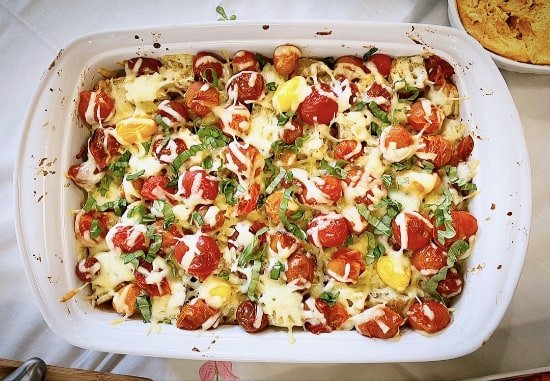 Tomato soup and grilled cheese are a match made in heaven, so I thought, why not put them together into a casserole into a single dish of pure deliciousness? All I had to do was use a low-carb keto bread for the base, and it was good to go. Super easy and definitely a crowd-pleaser!
Keto Roast Tomato Grilled Cheese Casserole Recipe
Ingredients:
Directions:
Preheat to 350F and lightly spray a 9x13 inch baking dish with cooking spray. Place bread cubes onto large baking sheet and toast in oven for 10 minutes (or just use stale bread). Remove and transfer to 9x13 inch dish. Drizzle with melted butter and sprinkle with garlic powder.

Scatter the tomatoes on the baking sheet, and toss with salt. Broil until they are very soft and the skins are wrinkled and browned in spots, 4-5 minutes. Remove from oven.

While tomatoes are roasting, whisk together eggs with heavy cream, non-dairy milk, salt and pepper. Pour the egg mixture over the bread cubes. Sprinkle with grated cheddar, then sprinkle the roast tomatoes overtop the cheese. Finally, top the casserole with mozzarella cheese. When the roast tomatoes are done, set the oven to 375F.

Once the oven is down to 375F, bake the casserole for 15-20 minutes or until the cheese is melted and bubbly. Allow to cool for 5 minutes then top with fresh basil and serve.
Did you make this vegetarian keto roast tomato grilled cheese casserole recipe? If so, please let me know how it turned out in the comments. Or if you share pics of your creations on Instagram, please tag me so I can see them. Enjoy! :)