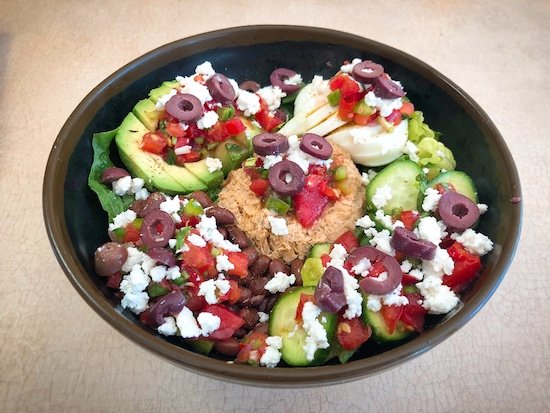 Trying to work more fish into your diet? Ditch the beef and try a tuna taco salad instead (*or salmon, or any canned fish you like). Canned fish is such a productivity hack since it's already cooked. Combine with a little mayo and some taco seasoning for your base, throw it on some mixed greens with pico de gallo, then pile on the taco toppings!. It's everything you like about tacos in salad form, but without all the cooking for an easy lunch or weekday dinner.
Keto Tuna Taco Salad with Pico de Gallo Recipe
Pico de Gallo Salsa Ingredients:
2 roma tomatoes, diced with seeds removed
1 tablespoon red onion
1 clove garlic, minced
½ teaspoon kosher sea salt
2 tablespoons fresh cilantro, chopped
1 tablespoon lime juice, freshly squeezed
¼ teaspoon ground cumin
Large pinch cardamom powder
Tuna Taco Salad Ingredients:
Directions:
Stir together all the ingredients for the pico de gallo salsa. Store in the fridge until ready to use.

Stir together tuna, taco seasoning, mayo, lime juice. Set aside.

Now assemble the salad. Add mixed greens to a large bowl. Add the tuna to the centre. then arrange the black soy beans, cucumber, sliced egg, and avocado around the tuna. Spoon a little pico de gallo on each of the toppings. Add a dollop of sour cream on top of the tuna (if using), then sprinkle with cheese and sliced olives over all, then dig in!
Did you make this keto tuna taco salad with pico de gallo recipe? If so, please let me know how it turned out in the comments. Or if you share pics of your creations on Instagram, please tag me so I can see them. Enjoy! :)