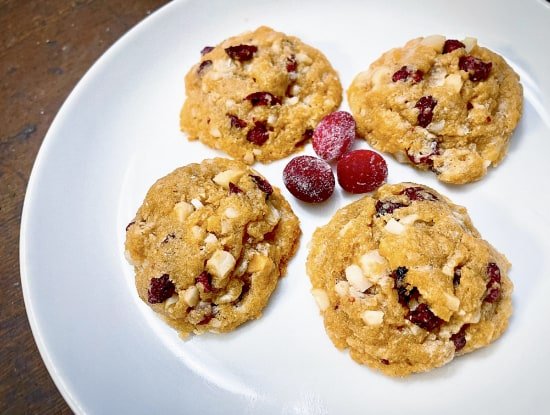 White chocolate cranberry macadamia nut cookies. Tastes as good as it sounds! This new Keto Christmas cookie recipe was a triumph! This is because to make it happen, I made my own sugar-free dried cranberries AND made my own sugar-free white chocolate. Added them to decadent macadamia nuts to make this rich, keto-friendly classic!
Keto White Chocolate Cranberry Macadamia Nut Cookies Recipe
Ingredients:
Directions
Preheat your oven to 350F. In a small bowl combine the almond flour, baking soda, baking powder, glucomannan, and set aside.

Next, beat butter, sweetener, and vanilla extract in stand mixer bowl until creamy.

Add the egg, beating the mixture on low.
Gradually pour in the almond flour mixture and beat on low speed until combined.

Fold in the white chocolate chips, macadamia nuts and dried cranberries using a spatula until just combined.

Chill the mixture for 30 minutes. Using a 1" cookie/ice cream scoop drop 20 cookies onto a baking sheet lined with parchment paper or silicon mat evenly spaced.

Bake for 7-9 minutes or until golden brown and lightly set. Top with flaky sea salt. Allow cookies to cool 15 minutes before removing from pan to cooling rack to cool completely.
Did you make this keto white chocolate cranberry macadamia nut cookies recipe? Please let me know how it turned out in the comments. Or if you share pics of your creations on Instagram, please tag me so I can see them. Enjoy! :)