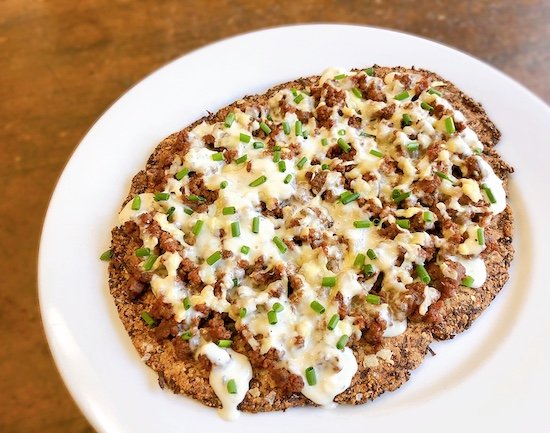 Back when I used to eat more carbs, one of my favourite late-night snacks in Vancouver was beef blue cheese pizza at those pizza-by-the-slice places. Now that I have two preferred keto pizza crusts dialled in, I decided to recreate the magic of this old favourite in keto-friendly form.
Keto Beef Blue Cheese Pizza
Ingredients:
Directions:
Preheat oven to 425F. Toss the ground beef in the marinara sauce then spread over prepared pizza crust. Sprinkle white cheddar cheese over top.

Bake in preheated oven for 7-10 minutes, or until cheese is melted and bubbly. While the pizza is cooking, whisk together the blue cheese dressing with the non-dairy milk to thin out the dressing a little. Remove the pizza from oven.

Drizzle blue cheese dressing over the pizza then sprinkle with green onions. Slice and serve hot.
Did you make this keto beef blue cheese pizza recipe? If so, please let me know how it turned out in the comments. Or if you share pics of your creations on Instagram, please tag me so I can see them. Enjoy! :)