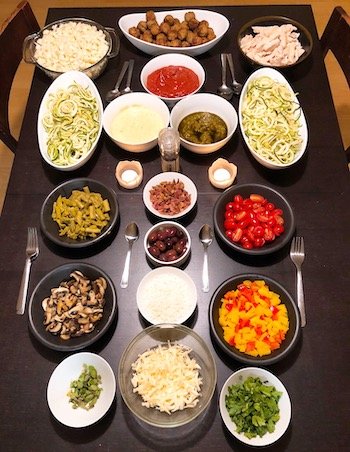 I recently had a last-minute, early birthday celebration at our house with my friends and we had to come up with a fun, keto meal plan that everyone could easily contribute to. Enter the faux pasta bar.
This isn't the sort of meal that you would go to the trouble of preparing for an average night, but it's perfect for a potluck style party in which everyone is bringing something to the table to make the meal. And there is always a level of fun and excitement at being able to put together your own dishes using all the ingredients out on the table.
Here is the menu we came up with for our keto faux pasta bar:
Faux Pasta:
zucchini noodles
cauliflower florets
Meats:
Pasta sauces:
Veggies:
sautéed mushrooms
grape tomatoes
sautéed bell peppers
Herbs:
fresh basil
fresh Italian parsley
Cheeses:
shredded mozzarella cheese
grated Parmesan (freshly grated is best if available)
All you have to do is lay out all the various ingredients on a table in a visually appealing way, hand out pasta bowls then everyone gets down to building their own dishes. Because it wasn't practical to have everything hot on the table, we just let people build their pasta dishes then microwave them to heat them up, then add their garnishes on at the end. It worked really well and people enjoyed making their own creations.