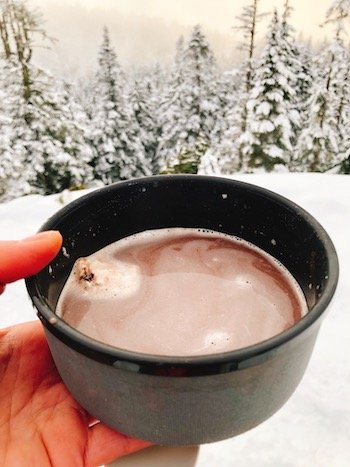 While I already have a keto hot chocolate recipe, it's one that's designed to be made at home, using liquid ingredients on the stove top. But since I had a winter camping trip planned, I really wanted a keto hot cocoa powder mix to which you just add hot water, to make it easier to prepare out in the bush. And so this recipe was born.
Keto Instant Hot Cocoa Mix Recipe
Ingredients:
Directions:
Add the sweetener, cocoa, and heavy cream powder (or coconut milk powder to a food processor and pulse to combine. Makes 14 servings.

Add ¼ cup or so of boiled water to your mug. Mix in 2 heaping tablespoons of hot chocolate mix then add another cup of hot water. Stir well to dissolve. Add a keto marshmallow, keto whipped cream, keto chocolate shavings, ground cinnamon, or whatever other toppings you like. Allow to cool for a couple of minutes before enjoying.
Did you try making this keto instant hot cocoa mix recipe a try? If so, how did it go? Please share in the comments. If you share any pics on Instagram, be sure to tag me so I can appreciate your creation. :)