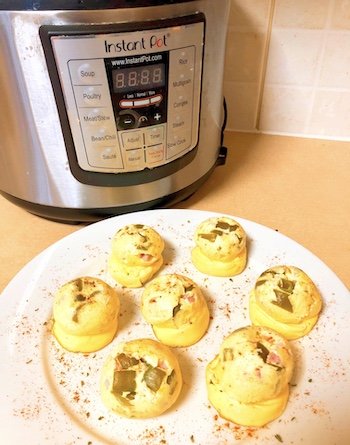 Have you ever had the egg bites at Starbucks? This recipe is loosely based on it, but using higher fat ingredients in the base recipe to make them a bit more keto-friendly. I've included 6 different versions of them to give you ideas, but you can essentially just take the base recipe, use your creativity and run with it.
Keto Instant Pot Egg Bites Recipes
Base Ingredients:
Crispy Bacon Gruyere Egg Bites Add-ins
½ cup gruyere cheese, grated
¼ cup cooked bacon, crumbled
Mexican Egg Bites Add-ins
½ cup Pepper Jack cheese, grated
¼ cup Keto Mexican pulled pork carnitas or Keto Taco Beef (*For a more convenient option, packaged Chata Chilorio shredded seasoned pork meat or Starkist Tuna Creations with Tapatio also work. Both are available at Walmart in the States.)
¼ cup avocado, diced
1 tablespoon fresh cilantro, chopped
Broccoli-Cheddar Egg Bites Add-ins
½ cup cheddar cheese, grated
1 teaspoon nutritional yeast (*add in to base mix with cheese)
¼ cup broccoli, cooked and chopped
Canadian Bacon Swiss Cheese Pepper Egg Bites Add-ins
½ cup Swiss cheese, grated
¼ cup Canadian pea meal bacon, chopped (*may swap for cooked ham or sausage)
¼ cup green peppers, chopped and cooked
1 tablespoon green onions, chopped
1 teaspoon fresh thyme (or ¼ teaspoon dried thyme)
Greek Egg Bites Add-ins
Combination Pizza Egg Bites Add-ins
¼ cup pizza mozzarella cheese, grated
2 tablespoons Parmesan cheese, grated
¼ cup pepperoni, chopped
¼ cup green peppers, chopped and cooked
2 tablespoons white mushrooms, chopped
1 tablespoon fresh basil, chopped (or ¼ teaspoon dried basil)
keto marinara sauce (for dipping)
Directions:
Add eggs, heavy cream and cream cheese along with any additional cheese from your chosen recipe to a blender and pulse till smooth.

Spread the add-ins from your chosen recipe evenly amongst the cavities of your silicone egg bites mould.

Divide the egg mixture evenly between the compartments of the silicone mould, tightly cover with aluminum foil.

Add 1 cup water to Instant Pot. Put the silicon mold on an Instant Pot trivet and lower into the Instant Pot

Put the lid on the Instant Pot and be sure that the vent is set for sealing. Press the 'Steam' button and set timer to 10 minutes. It takes about 5 minutes for the Instant Pot to come to full pressure, then the display will show a countdown timer.

Once the cooking time is up, allow the pressure to release naturally for 10 minutes, then release any remaining pressure, if any, before opening the Instant Pot.

Remove the silicone mould from the Instant Pot and allow the egg bites to cool slightly before serving. These egg bites can be stored in the fridge for up to 1 week. Simply reheat in the microwave for 30 seconds. They can also be frozen and reheated in the microwave for 1 ½ - 2 minutes.
Did you give any of these keto Instant Pot egg bite recipes a try? If so, which ones did you go for? Or maybe you did your own creation? Whatever you decided, please let share in the comments. And if you post any pics on Instagram, please tag me so I can see them. Enjoy! :)