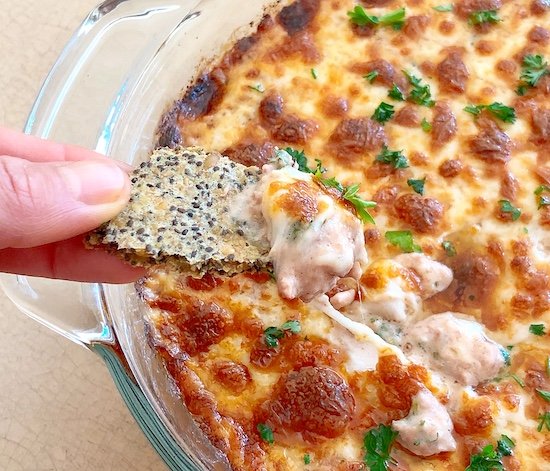 St. Patrick's Day was a non-event this year, but I still made this Irish-inspired corned beef and cabbage dip to honour the occasion. Combining canned corned beef, sliced cabbage, herbs and cheese to make this hot dip would have been awesome for an Irish-themed party and hopefully will be next year! Damn corona virus...
Keto Irish-Inspired Corned Beef and Cabbage Dip Recipe
Ingredients:
1 tablespoon unsalted butter
2 tablespoons yellow onion, diced
1 clove garlic, minced
1 cup green cabbage, thinly sliced
1 cup sour cream
½ cup mayonnaise (*Use homemade vegannaise if avoiding eggs.)
2 teaspoons Worcestershire sauce
2 teaspoons grainy mustard
1 tablespoon prepared horseradish
¾ teaspoon dried thyme , chopped
2 tablespoons fresh parsley, chopped
Flaky sea salt and freshly ground black pepper, to taste
1 can corned beef, broken up into small pieces
1 cup mozzarella cheese, grated
¾ cup Parmesan cheese, grated
Fresh parsley, chopped (for garnish)
Directions:
Preheat oven to 350F. In a medium saucepan, melt the butter over medium heat. Sauté the onion with a sprinkle of salt 3-4 minutes until softened then add garlic and thyme and cook until fragrant. Add cabbage and cook until tender, around 5-7 minutes.

Stir in remaining ingredients except mozzarella. Season with salt and pepper to taste and add to an oven-safe bowl. Sprinkle mozzarella on top then bake in the oven until cheese is melted and bubbly. Allow to cool 5-7 minutes before serving with keto crackers, keto bread, or cut veggies.
Did you make this keto Irish-inspired corned beef and cabbage dip recipe? If so, please let me know how it goes in the comments. Or if you share pics of your creations on Instagram, please tag me so I can see them. Enjoy! :)