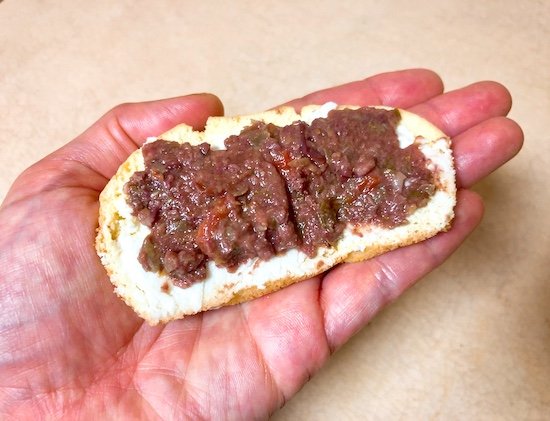 After my recent solo hike of the North Coast Trail, I picked up a few keto finds at a local grocery store for a post-hike feast. One was a bottle of olive tapenade, a low-carb spread I had never tried before. It had a lot going on taste-wise, tart and briny, yet sweet, and made for an excellent topping on an avocado. I decided then that I would attempt to make my own version of it. This is that recipe.
Keto Kalamata Olive Tapenade Recipe
Ingredients:
3 cloves garlic, peeled and chopped
1 cup kalmata olives, pitted and chopped
1 tablespoon oil-packed sun-dried tomatoes, drained , chopped
1-2 peperoncini peppers, stem and seeds removed and chopped (*optional)
2 tablespoons capers, drained
2 canned anchovy fillets, minced (*Omit for vegan, but if not using, add more flaky sea salt to taste.)
3 tablespoons fresh parsley, chopped
2 tablespoons lemon juice, freshly squeezed
2 tablespoons extra virgin olive oil
1 teaspoon sundried tomato oil
Flaky sea salt (like Maldon or Fleur de sel and freshly ground freshly ground black pepper) (to taste)
Directions:
Place the garlic cloves into a blender or food processor; pulse to mince. Add the olives, capers, parsley, lemon juice, and olive oil. Blend until everything is finely chopped. Season to taste with salt and pepper. Serve with with keto crackers, keto bread or as a topping for avocados.
Did you make this keto kalamata olive tapenade recipe? If so, please let me know how it turned out in the comments. Or if you share pics of your creations on Instagram, please tag me so I can see them. Enjoy! :)