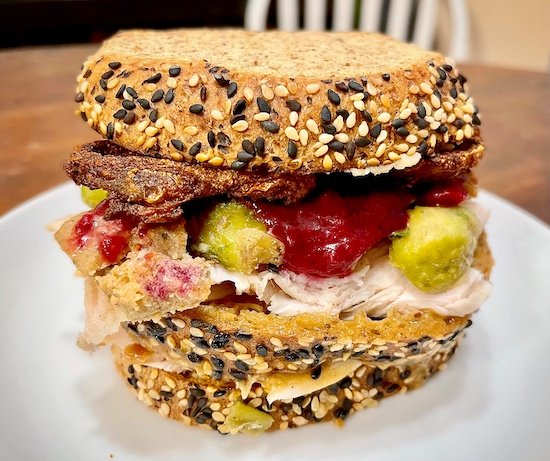 Anyone who watched Friends might remember "The Moist-Maker", Ross's favourite post-Thanksgiving sandwich. There are many versions, all with the one consistent element, a gravy-soaked 3rd slice of bread, the centre of the sandwich. Here's my low-carb version, adding crispy fried turkey skins, which we thoroughly enjoyed this year.
Keto Next-Level Moist-Maker Turkey Leftovers Sandwich Recipe
Ingredients:
Directions:
Heat avocado oil in a small skillet to medium. Once fully heated, add the roast turkey skin and fry until crispy, 3-4 minutes, flipping once halfway through. Remove from skillet and add to a plate lines with paper towel.

While the skin is frying, heat gravy in a small saucepan. Heat a large skillet to medium heat. Butter one side of the two outer slices of bread and add to heated skillet, buttered side down. Fry until the buttered side is golden then remove from skillet and add to a cooking rack, toasted side up. Once toasted, place the bread slices on a cooling rack to keep it from getting soggy while you assemble the sandwiches.

Now assemble the sandwich, add one layer of sliced turkey to the toasted side of the bottom bread slice (yes, the toasted side; this helps hold the sandwich together.) Now add a thin layer of stuffing on top of the turkey then a thin layer of cranberry sauce then the gravy-soaked bread slice. Now start the layers again, turkey, stuffing and cranberry sauce, then top with the fried turkey skin pieces. Spread the garlic mashed rutabaga on the toasted side of the top bread slice. Place the bread slice on top, rutabaga side down.
Did you try this keto next level moist-maker turkey leftovers sandwich recipe? If so, let me know how it went in the comments, or tag me in any photos you share on Instagram so I can see your creation.