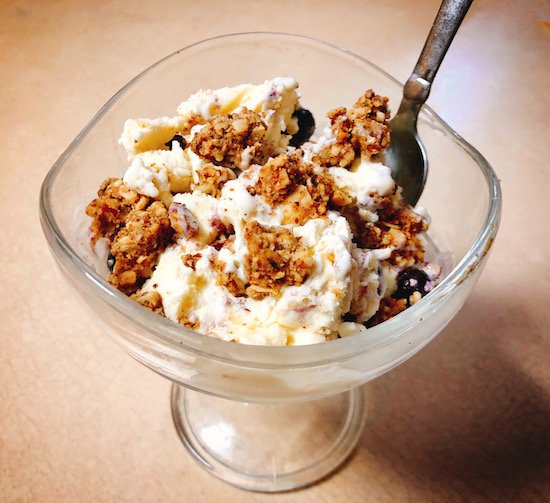 Before we adopted the Keto lifestyle, my husband's favourite snack was yogurt topped with granola and berries. He had to give up on granola because of the high sugar/carbs... until now. I've created this new keto-friendly granola recipe that incorporates a wide variety of healthy nuts, seeds and spices, while being minimally sweetened to make it a healthy snack any time, and can be made vegan too.
Keto Nut and Seed Granola Recipe
Ingredients:
Directions:
Preheat the oven to 300F. Line a baking sheet, or two small ones, with parchment paper or a silicon baking mat.

Pulse almonds, hazelnuts, and Brazil nuts in a food processor or high powder blender intermittently, until most of the nuts are in chopped into large pieces (about ¼ to ½ of the full size of the nuts). Use a silicon spatula to loosen up any nuts that get stuck to the sides.

Add the walnuts. Pulse again, once or twice, then add the pecans, continuing until the pecans are in large pieces.

Add the pistachio nuts, hemp hearts, golden flaxseed meal, erythritol, cinnamon, ginger, nutmeg and salt. Pulse just until everything is mixed well. Don't over-process!
You want to have plenty of nut pieces remaining, and most of the seeds should be intact. Pour the mixture into a large mixing bowl.

Combine all the wet ingredients in a small mixing bowl. Stir in the protein powder.

Pour the contents of the smaller bowl into the larger bowl. Stir well using a spatula.
7, Transfer the nut mixture to the prepared baking sheet in a uniform layer, pressing together into a thin rectangle (about ¼ to ⅓ in (.6-.8 cm) thick). Bake for 40-50 minutes, until lightly browned, especially at the edges.
Cool completely before breaking apart into pieces. The granola won't be fully crispy yet, but it become more crispy as it cools. Serve with yogurt, ice cream, or any kind of milk. Add frozen or drier berries for added sweetness if desired.
Did you make this keto nut and seed granola recipe? If so, please let me know how it turned out in the comments. Or if you share pics of your creations on Instagram, please tag me so I can see them. Enjoy! :)