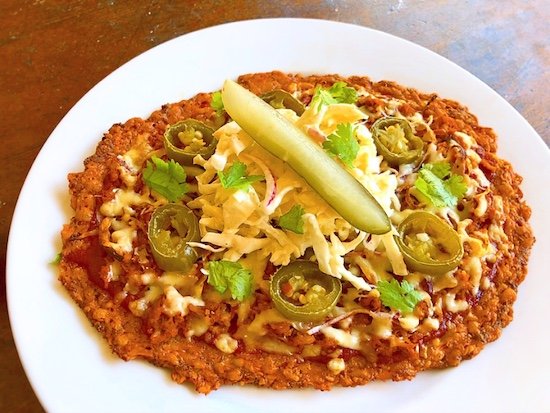 Since I enjoyed my BBQ pulled pork pizza recipe so much, I decided to try converting the Reuben sandwich into pizza form. It was a divine, flavourful creation, that both my husband and I enjoyed, and if you use the cauliflower crust, it's quite a bit lighter than the sandwich while still delivering all the tangy flavours you enjoy from a Reuben.
Keto Reuben Pizza Recipe
Ingredients:
Directions:
Prepare your choice of keto pizza crusts and allow to cool.

Preheat oven to 450F. Spread the Russian dressing over the crusts. Top with sauerkraut. Sprinkle chopped corned beef overtop the sauerkraut. Sprinkle grated cheese over all. Arrange the sliced pickles over the cheese layer.

Cook in preheated oven for 12-15 minutes, or until cheese is melted and bubbly.

Remove from oven then add the coleslaw to the centre in a big dollop. Place the pickle spear in the centre and garnish with chopped cilantro. Slice and serve.
Did you make this keto reuben pizza recipe? If so, please let me know how it turned out in the comments. Or if you share pics of your creations on Instagram, please tag me so I can see them. Enjoy! :)