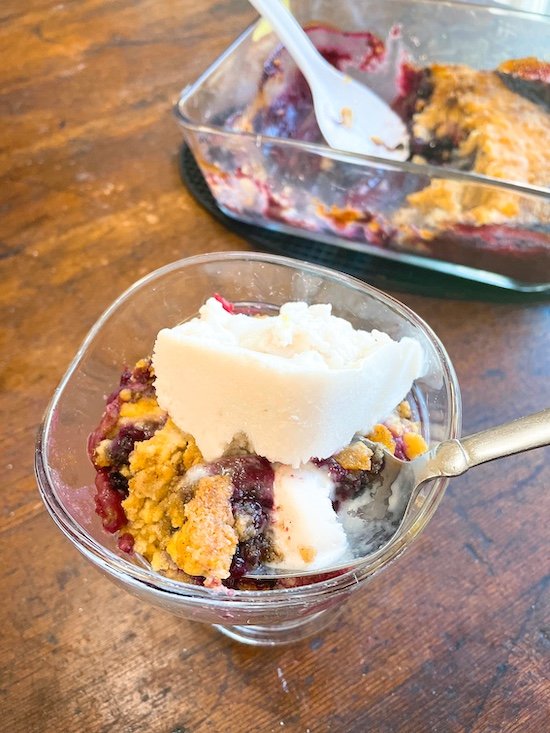 Most people are familiar with the fruit crisps crumbles. A cobbler is similar but with a biscuit-based topping. I take it one step further with this recipe and give it a lovely tangy taste by using sourdough starter or discard for this sourdough berry cobbler recipe. And don't worry, you can do this recipe even if you don't have an active sourdough starter by doing a quick ferment using buttermilk abs lupin flour.
Sourdough Berry Cobbler Recipe
Sourdough Biscuit Topping Ingredients
Filling Ingredients:
2½ lbs fruit, fresh or frozen (see below for suggestions)
2 teaspoons lemon juice, freshly squeezed
¼ teaspoon glucomannan
Fruit Options:
Mixed Berry: 2½ lbs mix of berries, fresh or frozen
Strawberry Rhubarb: ½ lb rhubarb and 2 lbs of strawberry using ⅓ cup sweetener to balance out the rhubarb.
Butter Topping Ingredients:
Directions:
Mix the flour with the baking soda, baking powder, salt and added spices.

Cut the butter into the flour with a fork or pastry blender until evenly distributed.

Preheat the oven to 375F. Mix in the sourdough starter to form a sticky dough. Avoid over mixing, you just need to bring the dough ingredients together.

Mix the fruit with the sugar and spices, and spread out on the bottom of a 10-cup baking dish.

Top with the cobbler biscuit dough. Brush the top of the biscuit with melted butter, then sprinkle on the gold erithrytol. Bake in preheated oven for 40-55 minutes until the dough is cooked and the top is nicely browned. Serve topped with keto whipped cream, keto vanilla ice cream or keto coconut milk vanilla ice cream if vegan.
Did you make this keto sourdough berry cobbler recipe? If so, please let me know how it turned out in the comments. Or if you share pics of your creations on Instagram, please tag me so I can see them. Enjoy! :)