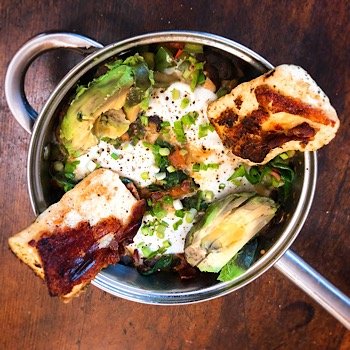 I wanted an easy tofu recipe that didn't require it to be pressed, something with a flavourful sauce that I could just throw it into to mask the blandness of it, while not having to soak it in a marinade. I came up with this tofu chard recipe, that combines Indian seasonings with tofu and chard for a delicious, healthy vegan keto meal.
Ingredients:
Directions:
Heat avocado oil in a large skillet over medium heat. Add onions, and season with salt and pepper. Once onions are translucent, add garlic and ginger and stir fry until fragrant, around 1-2 minutes.

Turn heat down to medium-low then stir all the spices and cook until fragrant. Add chard stems and stir fry until softened, around 3-4 minutes, then add chard leaves and stir fry a further 3-4 minutes until wilted.

Add broth, tomatoes and lemon juice and simmer until sauce is reduced, around 7-8 minutes.

Stir in tofu and heat through. Remove from heat then stir in yogurt. Season with salt and pepper to taste. Serve over bowls of cauliflower rice and garnish with more yogurt and fresh coriander leaves if desired.
Did you make this vegan keto tofu chard curry recipe? If so, please let me know how it turned out in the comments. Or if you share pics of your creations on Instagram, please tag me so I can see them. Enjoy! :)