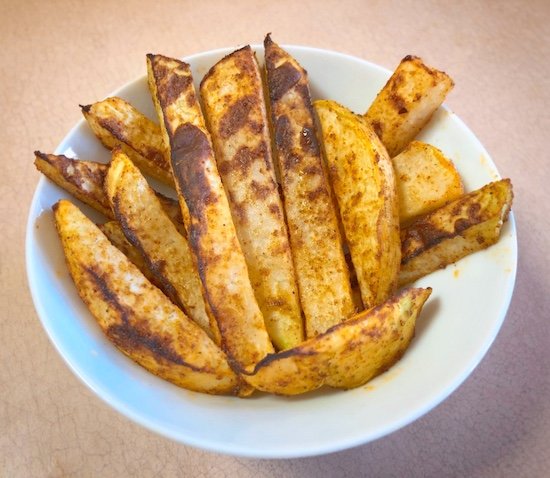 Like a combination of broccoli and radish, this low-carb veggie works pretty well as a replacement for potato when making fries. Just rub with oil, rub in your spices and bake. Perfect for snacking or as a side dish for your favourite keto burger recipe!
Vegan Keto Baked Kohlrabi Fries Recipe
Ingredients:
Directions:
Preheat oven to 425F. Mix together ground cumin, chili powder and coconut flour in a small bowl. In a medium bowl, toss the kohlrabi fries with avocado oil evenly. Then sprinkle in spice mixture a little at a time, tossing after each addition. Spread the kohlrabi in a single layer on a baking sheet lined with parchment paper or a silicon mat. Alternatively, you can use a baking rack.

Bake for 25-30 minutes, flipping once (*omit if using a baking rack), until they are soft and getting blistered and dark on the outside. Remove and eat warm on their own or as a side for your favourite burger recipes, whether it's a beef or chicken burger, a salmon burger, a dairy-free, nut-free salmon burger, a shrimp burger or a , or a vegan hemp heart mushroom burger.
Did you make this vegan keto baked kohlrabi fries recipe? If so, please let me know how it turned out in the comments. Or if you share pics of your creations on Instagram, please tag me so I can see them. Enjoy!