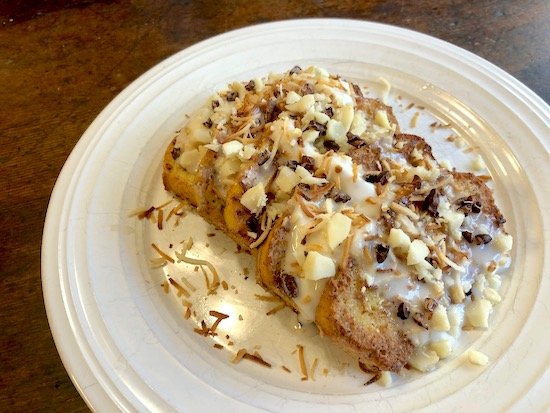 Looking for a more tropical spin on French toast? This keto-friendly Hawaiian spin on it, will take you on a mini-vacation of the senses with chopped macadamia nuts, chocolate or cacao nibs, and layers up on layers of coconut at all levels. So if you dig coconut, this low-carb Hawaiian French toast recipe is for you!
Keto Hawaiian French Toast Recipe
French Toast Ingredients:
Topping Ingredients:
Directions:
Cut the bread into thick slices, at least ½" thick, or to your own liking.

Heat a griddle or frying pan to medium heat. Whisk together eggs, coconut milk beverage, coconut milk and seasonings. Dip slices of bread into egg mixture, then cook on griddle for around 1-2 minutes or so on each size, or until nicely golden. Put finished slices into a casserole dish in the oven on the 'warm' setting to keep them warm until you finish cooking all the bread slices.

Arrange French toast slices on a plate. Serve warm, topped with your choice of toppings (see above).
Did you make this keto Hawaiian French toast recipe? If so, please let me know how it turned out in the comments. Or if you share pics of your creations on Instagram, please tag me so I can see them. Enjoy! :)