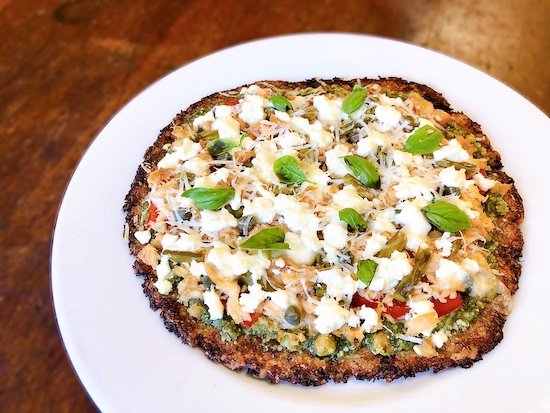 When you're looking for a lighter option pizza and wouldn't mind getting more healthy fats, look no further than a keto-friendly salmon pesto pizza. We all know salmon is a great source of omega-3 fats, then you combine that with the olive oil in the pesto, and the healthier choices of goat and sheep cheeses, as well as briney asparagus spears and capers, and you get this flavourful, nutritious pizza that doesn't leave you wanting for flavour.
Keto Salmon Pesto Pizza Recipe
Ingredients:
⅓ cup basil pesto
1 small Roma tomato, sliced
½ can of wild salmon, flaked with bones and skin removed
2-3 pickled asparagus, chopped
1 tablespoon capers, drained
¼ cup fresh goat cheese, crumbled
2 tablespoons pecorino romano cheese, grated
Fresh basil leaves, chopped (for garnish)
Directions:
Preheat oven to 425F. Spread the pesto over the crust. Add a layer of flaked salmon, then arrange tomatoes, asparagus and capers overtop, then sprinkle with goat cheese.

Bake in preheated oven for 7-10 minutes, or until cheese is melted and bubbly.

Remove from oven then sprinkle with pecorino romano and basil leaves for garnish. Slice and serve hot.
Did you make this keto salmon pesto pizza recipe? If so, please let me know how it turned out in the comments. Or if you share pics of your creations on Instagram, please tag me so I can see them. Enjoy! :)