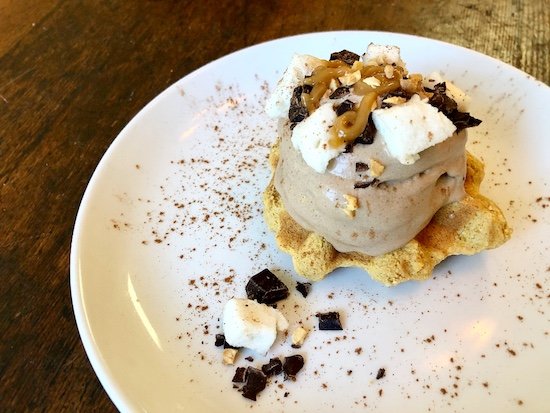 Ever since I was introduced to the build-your-own-pizza birthday party, I was hooked on any kind of event that had a build-your-own-food creation bar. And let's face it; you don't need a special occasion to be able to enjoy a build-your-own ice cream creation bar, especially now that it's summer. There are a few different ways you can spin it, but you've gotta start with a good base.
Keto Ice Cream Base
If you've been to a casino buffet, you've probably seen a sundae bar, except those ones are usually filled with tons of sugar; sugary ice cream, sugary syrups, and sugary sprinkle toppings of all kinds. A keto sundae bar starts with sugar-free ice cream as a base, usually vanilla, or chocolate and vanilla if you're feeling ambitious. You can go standard dairy, or you can try vegan options for dairy-free versions. Here are a few keto ice cream recipes to get you started:
[Scoopable Keto Vanilla (or Chocolate) Ice Cream](keto ice cream) Vegan Keto Coconut Vanilla (or Chocolate) Ice Cream Cashew Vanilla Keto Ice cream (if you have an aversion to coconut, though the coconut recipe above is my preferred vegan option, which I don't find tastes much like coconut at all.)
Keto Ice Cream Syrups and Sauces
Once you've got your ice cream, the next step is to slather it in a sugar-free sauce or syrup. You can keep it simple and go for just one, or pick a couple that complement each other, as well as your choice of base ice cream flavour.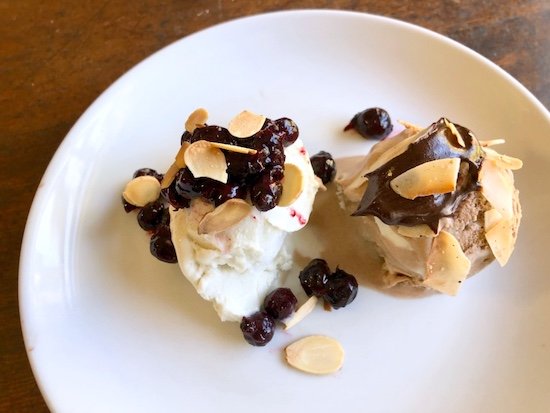 Keto Ice Cream Sprinkle Toppings
Now that you have your ice cream coated in a syrup or sauce, you have to sprinkle something on top for crunchy texture, as well as flavour. I highly recommended lightly toasting them on the stove if not already roasted to give them added crunch and flavour. Here are a few ideas:
Roasted nuts and seeds: pecans, roasted macadamia nuts, walnuts, pumpkin seeds , pistachios, shredded coconut, peanuts, slivered almonds, etc.
Sugar-free candy: Keto marshmallows, sugar-free sprinkles, SmartSweets Gummy Bears, crushed peppermint candy, crushed Werther's Original caramel candies, etc.
Sugar-free chocolate: Shape-as-you-like chocolate (made into chunks), keto chocolate peanut butter cups, Lily's chocolate chips, cacao nibs, etc.
Soft Fat bombs: cookie dough balls, rum balls.
Cereal: Homemade keto granola, Farm girl keto salted caramel granola.
Low-Carb Fruit
Fresh summer fruit is always a nice addition to an ice cream bar, just make sure you use low-carb choices and in smaller quantities. Here are a few good options: strawberries, raspberries, blackberries, blueberries, golden berries, mulberries, star fruit, etc.
Keto Ice Cream Spices
A little spice sprinkled over your sundae can give a little extra pop of flavour that connects all your flavours together, enhancing the existing flavours. Here are a few ideas to get you going: cinnamon, flaky sea salt (like Maldon or Fleur de sel, nutmeg (freshly grated if possible), cardamom, ginger, citrus zest, raw cacao, fresh mint, fresh basil (especially with strawberries!) etc.
Optional Pastry Ice Cream Base
If you want to take your ice cream bar to the next level, give your ice cream creations an awesome base through keto pastries of some kind. If you use cookies, you can make them into ice cream sandwiches if you like. For myself, I usually just use the pastry as a base then build overtop.
Keto peanut butter cookies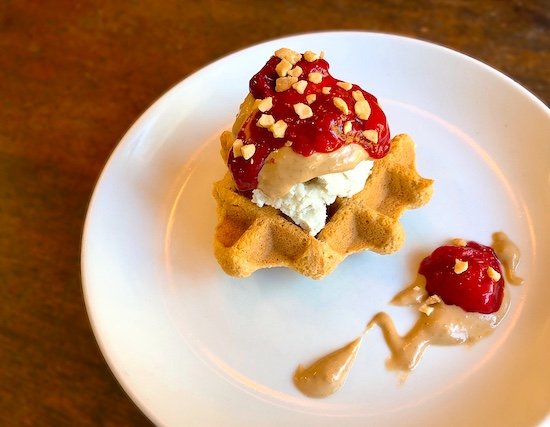 Did you try doing your own keto ice cream sundae bar? What options did you go with for yours? Did you come up with any interesting creations of your own? Please feel free to share your ideas in the comments. :)