Charcuterie boards are one of my favourite party foods. But then I don't just reserve them for parties. I also think of them as a celebratory platter food for special occasions for 2 or more people. Some nay-sayers might say that a whole charcuterie board is a bit much for 2 people, but my friend Kiri and I did one up for just the two of us for our birthday month celebration. Of course, we didn't finish the whole thing and if you follow the usual conventions for figuring out how much to serve, it was probably enough to serve a party of 6, but who ever complained about having leftover meat, cheese, pickles etc?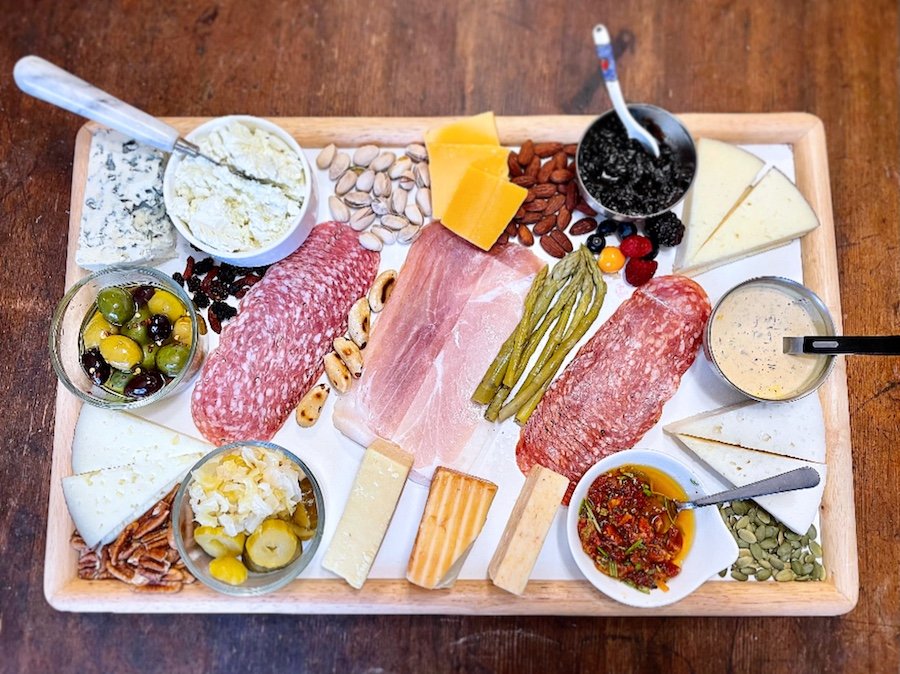 What to Include in a Low-Carb Charcuterie Board
Deli Meats: 3-5 types, mixing mild to spicy
Cheese: 4-8 kinds, mixing soft and hard, mild and sharp flavours
Pickles: 3-5 types, mixing sweet, salty, spicy, briny
Fruit: 2-3 types, just make sure they're low-carb
Spreads and sauces: 2-4 types, mixing sweet, savoury, or herby
Loaders: 2-3 types of food for spreading and loading (i.e. low-carb crackers, bread or chips)
Garnishes: 2-3 kinds of food for filling the gaps (i.e. keto-friendly chocolate, nuts, fresh herbs, flowers, dried fruits etc.)
Best Meats for a Keto-Friendly Charcuterie Board
You can pretty much put any meat you like on your board. The Italian deli meats are more traditional, but don't let that stop you from using what you have on hand. Here are a few ideas to get you started:
Prosciutto
Salami
Capicola
Sopressata
Calabrese
Pepperoni
Mortadella
Sliced Sausage (i.e. Chorizo, kielbasa, andouille, etc.)
Bacon
Smoked meat (i.e. turkey, Montreal smoked meat, etc.)
Best Cheeses for a Keto-Friendly Charcuterie Board
Some cheeses have more carbs than others, but if you have a variety, it should balance out. That being said, you may want to stick to ones that are lower in carbs if you want to be picky about it. Here are a few options to consider for different types of cheeses, but the sky's the limit when it comes to cheese:
Soft Cheeses: Burrata, brie, fresh goat cheese, camembert, cream cheese
Hard Sharp Cheeses: Aged cheddar, aged gouda, gruyere, comte
Blue Cheeses: Stilton, Roquefort, Gorgonzola
Mild Cheeses: Manchego, emmental (Swiss), havarti,
More Italian cheeses: fontina, pecorino romano, asiago
My Favourite Recipes for Pickles, Spreads, Loaders and Garnishes for Keto-Friendly Charcuterie Boards
These are the types of things that are often loaded with carbs, whether it's due to ingredients such as starchy flours or sugary additives. Here's list of my recipes that work well as sauces or spreads to include in a low-carb charcuterie board:
Spreads and sauces: kalmata olive tapenade, Danish remoulade, sun-dried tomato rosemary spread, pesto, caramelized onion jam, [jalapeño pepper jelly](https://feednflow.com/blog/post/jalapeno-pepper-jelly---keto-low-carb-sugar-free, blackberry bay leaf jam, strawberry jalapeño jam](https://feednflow.com/blog/post/strawberry-jalapeño-jam-keto-low-carb-vegan-sugar-free), bacon jam, creamy chicken liver pate, baba ganoush
Loaders: Simple crispy crackers, mixed seed crackers, coconut flour flax bread, eggless low-carb bread, tortilla chips, baked rutabaga chips, cabbage chips
Pickles: Probiotic dill pickles, sauerkraut, fermented jalapeño pepper pickles, mustard pickles, cherry peppers stuffed with goat cheese
Sweet Garnishes: Candied ginger, sugar-free white chocolate, sugar-free dark chocolate, cacao dusted roast hazelnuts
Savoury Garnishes: Chile lime mixed roast nuts, BBQ roast nuts, garlic adobo fried peanuts
Building Your Keto-Friendly Charcuterie Board
Almost any large clean board or platter will work for your base. You can use cutting boards, slate boards, or large marble or ceramic platters. I even used a TV tray for one. Treat your board like a blank canvas and let your creative juices flow. I find it easiest to start with the larger items, like anything contained in bowls like the spreads, and then filling in from there. If you're not serving it right away, just add the bowls for the spreads and add the spreads to the bowls right before serving.
Next, add the cheeses, separating them from one another on the board. You can pre-slice them or just keep knives out on the board if you're feeling lazy (me almost every time). Place your crackers and/or bread onto the board close to the cheese, or if you're tight on space, put them in separate bowls next to the board, saving more space for the other yummies (like I do!).
Next, add the meats, tucking them in tight to the other items on the board, which helps them keep their folded shapes while also allowing people to grab meat and cheese together easily. Now add the the fruit, scattering it around the platter, giving it a pop of colour. Fill in any remaining gaps with your garnishes.
Now your masterpiece is ready. Serve and enjoy!
What are your favourite things to include in a keto-friendly charcuterie board? Please share your ideas in the comments. :)